Lucy Busuttil |
FWI
4,025 views
November 21, 2008
The UK Government Department for Environment, Food and Rural Affair (DEFRA) has announced that the locations of genetically modified crop trials will be kept secret in the furure to prevent protesters from wrecking the trial sites. One of the future "secure" sites is located at Porton Down, near Salisbury, and carries out military research.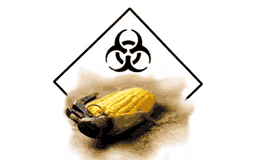 Almost all of the 54 GM crop trials conducted since 2000 have been vandalised because of government rules which stated that the grid reference of the trial had to be publicised. From now on, DEFRA plans to conduct the trials at more secure locations.
Farm fields and university sites were chosen in the past, allowing protesters to gain access. In the future secure government sites such as Porton Down near Salisbury, which carries out military research, will be used instead.
Ministers will also have more power to crack down on the opponents of GM crops. Rules introduced in 2005 have given police more powers to prosecute activists after Huntingdon Life Sciences was attacked by animal rights extremists.
"We need to see if they [GM foods] have a contribution to make — and we won't know the answer unless we run controlled experiments," said Hilary Benn, the DEFRA secretary.
Gordon Brown is aware that there has been public opposition to previous GM trials — notably from young mothers — but has said he will follow the science.
---