Tropical storm Kyle has formed on schedule. Expect slow development with the system as it fights off many different negative variables. Never the less I do expect this system to turn to the North-Northwest over the next 24 hours. This illusion would appear like it will hit North Carolina. This will not be able to hit that section due to the trough in the area. Florida through Delaware are in the "Safe Zone."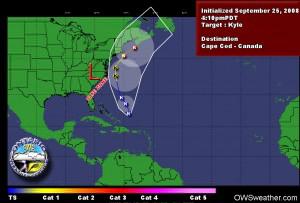 I am thinking right now that the storm system will make a sharper curve toward the Eastern Coast. It may not be like what we are showing though, however we are keeping it at a curve to just below Long Island. East of North Carolina is where I'd expect a Category 1 to come out of it. This would begin to move North again and finally Northeast. Long Island will be in our cone of probability. However, I think the storm will curve Southeast of it, sparing the Island.
Now our center comes near Cape Cod, MA. We also develop this into a Category 2 along the path. It will need to be watch. Category 2 damage at this point hitting the land looks possible of it does hit the area.
This may get to Category 3 damage potential as it nears the extreme Southeastern Canadian coastal zones.
More will be updated. But this is what I have right now.
---