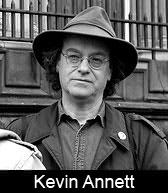 Canadian Reverend Kevin Annett (53), who is presently on a lecture tour throughout cities in Canada lives dangerously. "I do believe that I am about to be arrested by the RCMP. My sources tell me there is a warrant being issued this week for my arrest," he tells me in an interview this week. Reason: his suspicions regarding the disappearance and murder of aboriginal people in Vancouver, and the residential schools.
But Annett won't keep quiet, although the Canadian government meanwhile apologized for the residential schools, which kept some 250,000 natives between 1920 and 1996 under the guardianship and so-called "education" of churches. Kevin Annett wants to know the burial sites of the more than 50,000 Indians who died in those schools, so their relatives can give them a proper burial and find closure. But the former reverend of the United Church also wants those responsible for their death to be held accountable in front of an international court.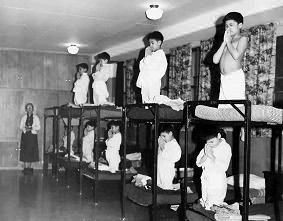 Kevin Annett is the nightmare of state and church, but he is also a hero to native residential school survivors, who adopted him and refer to him as "Eagle Strong Voice". Some 85,000 survivors are still around to tell the story. Wednesdays meeting of Canadian aboriginals with Pope Joseph Ratzinger in Italy did not impress Annett.
"The Pope never said I'm sorry, he just regretted the harm. He took no responsibility at all, which is not surprising, since he ordered American Bishops to conceal evidence of sexual abuse in churches just a few years ago," says Annett.
While the Canadian government has set aside with its apology nearly two billion dollars to pay for healing and to individual survivors, the suffering goes on, argues Annett. "Yes, the residential school survivors include band council chiefs who are working against their own people — but most survivors are poor, sick and homeless."
In cities like Vancouver, George Brown, aboriginal and police officer, argues some 350 persons of different tribes die every year mainly through drug abuse — a late result of the damage residential schools brought upon his people, he says.
Reverend Annett, who was hired in 1992 by St. Andrew's United Church in Port Alberni in British Columbia, but fired three years later without official charges, because of his revelations of residential schools, will go on a lecture tour this fall to Europe. He does not believe that anybody guilty of the death of over 50 000 children will ever be brought to trial in Canada, "unless it's an international court that puts them on trial," he points out.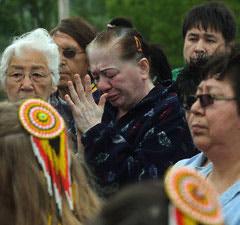 Annett is a man who stands alone with residential school survivors. He has made a documentary and published two books, "Hidden from History." The stories of the aboriginal survivors are heart-breaking, when they talk of witness to murder, sexual abuse, sterilization and punishment through the church. Their parents did not have a say, when the children were taken by force from the villages, they had to sign away guardianship to the churches, which ran those schools — some 120 across Canada. For the Reverend the residential schools, who's main purpose was to "take away land and heritage" in his opinion, is a never-ending story. And the chapter can't be closed until the dead are properly buried and the guilty are punished.
"The churches are afraid of unearthing the graves, because many people responsible for those killings are still alive. The last residential school didn't close until 1996 in Saskatchewan," he points out.
---