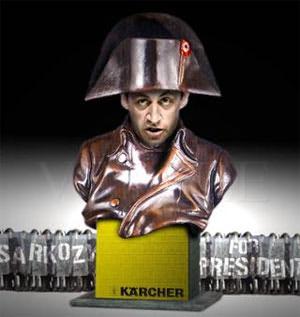 The accusations against the French president come ahead of elections he is polled to lose.
Mr Sarkozy, 57, received a warm response from workers when he visited the social housing construction site in Mennecy, Essonne, near Paris on Thursday.
However, yesterday it was claimed that half the crowd of "workers" who braved the cold to meet the President had been specially drafted in for the occasion and had nothing to do with the building work. "I only recognised two or three but I didn't know the others," Ambroise, one bona fide bricklayer told Europe 1 radio. "They wanted more people around Nicolas Sarkozy," he said, adding that there were twice as many workers than usual.
Bosses on sites from other locations had ordered staff to attend. They were then told to "pretend to work in front of the press," he said. In theory, none of them should have been working due to the unusually cold weather, and the place was deserted shortly after Mr Sarkozy's departure.
Management of the construction company in charge of the site "categorically denied" any stage-management, saying "only the 67 workers working daily on the site, were present, as well as support staff."
But a spokesman for the opposition Socialists slammed the visit. "If correct, this episode says a lot about the relationship with the truth the outgoing president keeps with the French," said Claude Bartolone. "It is proof of his taste for permanent trickery."
The far-Right National Front wrote: "The workers are abandoning him, extras will have to do."
The controversy could not have come at a worse time for Mr Sarkozy, a day after an Ifop poll placed him behind Marine Le Pen, the National Front leader, in voting intentions among France's active workforce. Miss Le Pen stood to win 24 per cent of the vote, with Mr Sarkozy on 18 per cent. François Hollande, the Socialist candidate, was in first place with 27 per cent.
Mr Sarkozy is still tipped to reach round two in nationwide polls.
This is not the first time the French president has been accused of stage-managing visits. In September 2009, factory workers at the Faurecia auto parts company in Normandy said they had been hand-picked to appear alongside the diminutive leader because they were short.
The Elysée dismissed the reports as "grotesque and absurd", despite the fact that staff confirmed they had been selected because they were "no bigger than the President".
---