Paul Bondarovski |
War Is Crime
4,046 views
January 17, 2012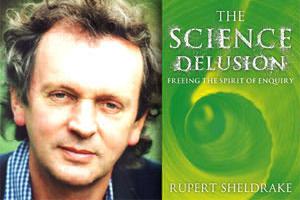 Rupert Sheldrake's new book The Science Delusion was published in the UK on January 5. By January 9 (within just 4 days!) the first printing had sold out! According to the book editor, this is the first time he has known a book sell out before its launch! The book is being reprinted and new stock should be reaching bookshops and Amazon.co.uk this week. It has been reviewed positively in The Independent, The Financial Times and The Spectator, and more reviews are due soon.
The launch of the book is today, January 17, at King's College, London University, from 7.00-9.30 pm, where Rupert Sheldrake will be giving a talk on the book (some books from the first printing were set aside for the launch).
The lecture is being streamed in real time and is available free of charge at: sheldrake.meovi.com
Meovi is the company that has just launched the Sheldrake TV channel on which Rupert answers dozens of questions in short (2-3 min) videos. This is an interactive service and subscribers can ask questions which he will be answering though a series of monthly updates. The questions range over a wide range of topics including basic science, morphic resonance, human intuition, premonitions and psychic pets.
Rupert Sheldrake will be launching the book in Ireland at a lecture in Dublin next Thursday evening, January 26, and will be speaking at several venues in England in January and February. Details are on the schedule on his web site.
Rupert Sheldrake will probably be visiting the US when the book is published by Random House, New York, in May 2012, under the title Science Set Free.
Rupert Sheldrake, one of the world's most innovative biologists and writers, is best known for his theory of morphic fields and morphic resonance, which leads to a vision of a living, developing universe with its own inherent memory. He worked in developmental biology at Cambridge University, where he was a Fellow of Clare College. He was then Principal Plant Physiologist at the International Crops Research Institute for the Semi-Arid Tropics (ICRISAT), in Hyderabad, India. From 2005 to 2010 he was Director of the Perrott-Warrick project, funded from Trinity College, Cambridge.
---