Putin "was a thug and a crook from the very beginning, and the people of St. Petersburg knew it."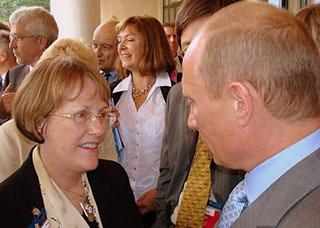 In light of recent events, I couldn't help but chuckle at the photograph in Karen Dawisha's office. Amid scholarly tomes and souvenirs from overseas travels is a framed shot of Dawisha in friendly chitchat mode with Vladimir Putin. At an Oxford café in late June, I ask her about the incongruous image. The political science professor spent seven years compiling a devastating dossier on the Russian president. Why would she want to look at herself making nice with someone she believes rode to power on a wave of theft, cronyism, and corruption?
The photo, taken at a 2007 conference in Russia organized by Putin's U.S. public relations firm, is a reminder of an important moment in her life, she says. Meeting with members of the local government in St. Petersburg, all of whom had immunity under Putin, intrigued Dawisha.
"They looked like they were in a boxing ring with Joe Frazier and did not win the match," she says.
From there, Dawisha began a complicated quest to learn more about the people who surround Putin and the origins of his political power—a journey that will culminate this month with the publication of Putin's Kleptocracy: Who Owns Russia? (Simon & Schuster, September 30, 2014).
The director of the Havighurst Center for Russian and Post-Soviet Studies, Dawisha has written four books, but none quite like this. Already, the manuscript is something of a cause célèbre, thanks to its explosive revelations and a brush with censorship that drew the attention of The New York Times and the Washington Post. As The Economist put it this spring, Dawisha's book "could hardly be more timely and important."
Gulnaz Sharafutdinova, a Russia expert at King's College London, predicts it will have a big impact. "It will clarify in the minds of many the nature of Putin's regime," she says.
Dawisha interviewed Russian insiders, reviewed Stasi historical documents (Putin was a KGB operative in East Germany during the Cold War), and dug through the archives of long-forgotten Russian newspapers and magazines that covered Putin aggressively before he cracked down on press freedom. The book focuses in large part on his time as an anonymous St. Petersburg bureaucrat in the 1990s, when, among other things, he helped Procter & Gamble break into the Russian market.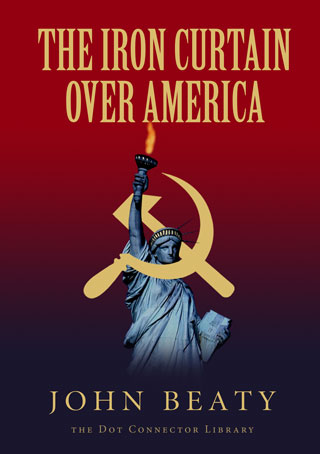 Though Dawisha doesn't accuse P&G of any wrongdoing, she argues that corruption fueled Putin's rapid political ascent. Putin and a group of longtime associates maintained ties with Russian organized crime figures, who filled the power void left after the fall of Communism. In fact, many of the Putin associates sanctioned by the U.S. government as a result of the current crisis in Ukraine are featured prominently in her book. Putin "was a thug and a crook from the very beginning, and the people of St. Petersburg knew it," Dawisha says.
That thesis, however, was too hot for her longtime publisher, Cambridge University Press, which in March declined to publish her manuscript. Cambridge feared the possibility of a costly libel lawsuit in the U.K., where media organizations don't enjoy many of the free-speech protections they do in the U.S. "We have afforded Professor Dawisha the opportunity to publish with another publishing house based outside the United Kingdom," Cambridge said in a statement.
Indeed, it didn't take Dawisha long to find a new home for the book. The Economist's Edward Lucas blogged about the publishing brouhaha, and other media outlets picked up the story. Within weeks Alice Mayhew, Bob Woodward's longtime editor, snapped up the book for Simon & Schuster and offered Dawisha a healthy advance. "It was a nice salary," Dawisha says.
In the fall, she will launch a nationwide book tour; in the meantime she is fielding interview requests from 60 Minutes and Frontline. Though no rookie, the attention is all new to Dawisha, whose previous books were released by academic presses. Has she ever done a book tour before? "Are you kidding me?" she says with a laugh.
---