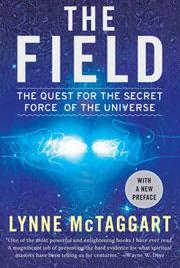 Science has recently begun to prove what ancient myth and religion have always espoused: there IS such a thing as a Life Force.
"One of the most powerful and enlightening books I have ever read. A magnificent job of presenting the hard evidence for what spiritual masters have been telling us for centuries." — Wayne W. Dyer.
"A big, bold, brilliantly crafted page-turner with HUGE ideas that challenges every last view about how the world works. This is both a primer to understand the law of attraction and the essential book of our age." — Jack Canfiend, author of The Success Principles.
"This important book stretches the imagination … We are on the verge of another revolution in our understanding of the universe." — Arthur C. Clarke.
"Every now and then a person taps into the zeitgeist of an age, the evolutionary edge of numan consciousness and understanding. The Field by Lynne McTaggart is seminal." — Barbara Marx Hubbard, President, Foundation for Conscious Evolution.
In this groundbreaking classic, investigative journalist Lynne McTaggart reveals a radical new paragigm — that the human mind and body are not separate from their environment but a packet of pulsating power constantly interacting with this vast energy sea, and that consciousness may be central in shaping our world.
The Field is a highly readable scientific detective story presenting a stunning picture of an interconnected universe and a new scientific theory that makes sense of supernatural phenomena. Documented by distinguished sources, The Field is a book of hope and inspiration for today's world.
Journalist and author Lynne McTaggart is one of the preeminent spokespersons on consciousness, the new physics, and the practices of conventional and alternative medicine. The author of The Intention Experiment: Using Your Thoughts to Change Your Life and the World, she lectures worldwide and is co-executive director of Conatus, which publishes well-respected health and spiritual newsletters. She lives with her family in London.
---