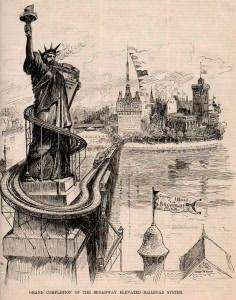 Cartoon from Harper's Weekly on May 28, 1887 turned Lady Liberty into a subway station. (Click to enlarge)
We live in a time where the prospects for liberty do not look good. The advances of The State (over the last decade especially) have been extraordinary.
In the blink of an eye, our every move is now up for grabs to be monitored; and unfortunately prying eyes are not the limit. Prying hands grab and grope our most intimate spots at airports … Stop-and-Frisk campaigns in NYC … Military Lockdown in Boston … checkpoints while driving…
So much liberty lost, in such a short period of time. How can the ideas of liberty succeed in such an environment?
Well, there are some lessons of history that can provide some encouragement. For things are not always as they seem. We may actually be living in a time that has never been better for the ideas of liberty to break through and sweep the world.
Massive changes often happen when they are least expected.
Let's go back to the year 1763.
The British Empire had soundly defeated the French around the globe, and the French and Indian War came to an end. As the Annual Register recorded of Britain,
"In no one year since she was a nation has she been favored with so many successes, both by sea and by land, and in every quarter of the globe."
Horace Walpole, an English letter writer and chronicler of English life and politics wrote:
"Victories come so tumbling over one another from distant parts of the globe that it looks like the handiwork of a lady romance writer…The park guns will never have time to cool. We ruin ourselves with gun-powder and sky-rockets."
The British were the Kings of the World. Nothing like it had been seen since the days of the Roman Empire.
And yet, just 13 years later, the ideas of Liberty would shake the planet like never before in human history. The seemingly all-powerful British Empire would lose its most prized possession named America.
The saying "Pride cometh before the fall" fits the bill perfectly here. One can only imagine the response that King George III had when hearing of the "Declaration of Independence" from a bunch of his libertarian-minded subjects. We today can imagine Nancy Pelosi having the same type of response.
But ideas are more powerful than even the largest military empires. Enough minds were made up in America, and nothing would stop the birth of "the land of the free". To top it off, in a sign of poetic justice, the secession from Britain would occur with the help of the French; the very same French who were soundly defeated just 13 years before.
It's important to distinguish that not all minds were made up in America. There were plenty of loyalists to the British Crown, and more than a plenty number of people who didn't care what happened one way or another.
There's a major lesson hidden in that fact. Only enough people are necessary for an idea to take hold and become dominant. How many people qualifies as enough is unknown.
In this world, all good is naturally attacked. Everything that is good must, as a matter of nature, face obstacles, challenges, and resistance. Liberty is achieved when it is intensely desired; and you cannot desire something unless you have the opposite challenging and resisting you.
So it should come as no surprise that the ideas of 1776 would be mercilessly attacked. It began immediately, like weeds attacking a garden.
The ideas of liberty held by the American public were so strong though, that it would take until the beginning of the 1900's for public opinion to noticeably turn in the opposite direction. I stress that this is when public opinion noticeably turned. The attitudes of U.S. government officials turned long before that. They just had to achieve their goals piecemeal.
But from the early 1900's on, the speed of the belief in government control began to take off. Let's go back to the tipping point that occurred over 100 years ago.
It was not an easy time for the idea pushers of government control. Battling liberty was a difficult task. They probably felt very similar to the way we feel today. It was no doubt hard for them to forsee how they could possibly succeed.
Ludwig Von Mises wrote:
"The ideal of liberty seemed to be so firmly rooted that everybody thought that no reactionary movement could ever succeed in eradicating it. It is true, it would have been a hopeless venture to attack freedom openly and to advocate unfeignedly a return to subjection and bondage. But antiliberalism got hold of people's minds camouflaged as superliberalism, as the fulfillment and consummation of the very ideas of freedom and liberty. It came disguised as socialism, communism, and planning."
Mises also wrote (my emphasis):
"Thus, about the middle of the nineteenth century, it seemed that the ideal of Socialism had been disposed of. It was at this moment that Marx appeared."
In other words, it sure seemed like liberty was unstoppable in America, just as it seemed like The British Empire was unstoppable prior to 1776.
But, once again, things are not always as they seem. Massive changes often happen when they are least expected.
America tipped in the early 1900's thanks to a small group of individuals who intensely desired complete government control. Once again, it only took enough people to get on board. The rest would be taken on a very nightmarish ride.
During the 1900's, the world would experience hundreds of millions dead at the hands of their own governments, two World Wars; and America would turn itself into a military empire that would be at almost constant war (with very short breaks) up to the present day.
So what are the major lessons to be learned? And how can we look positively at what seems to be insurmountable odds?
First, the world is run by ideas. The ideas that dominate take the day; which is another way of saying you shouldn't fret if your cousin or neighbor don't embrace the ideas of liberty. Having others who believe the polar opposite should be looked on as proof that the liberty to think your own thoughts still exists. It's actually a good thing.
Next, champions of ideas always seem to appear at the most opportune moments. In 1776, there was Thomas Paine, Patrick Henry, and Thomas Jefferson. In the 1800-1900's there were Marx, Engels, and Keynes who convinced the world to go backwards for awhile.
And today we have the great Champion of Liberty named Ron Paul, whose influence is not confined to the U.S., but who has inspired millions all over the globe. Ron Paul has preached for 30+ years, and continues to this day, that our struggle is one of ideas, and not of armed conflict and violence. The prior 100 years have seen enough violence to last 1,000 lifetimes. Peace is long overdue.
Ron Paul's timing and impact are a very good sign.
We also find ourselves (despite government spying on all of us) with an Internet that connects everyone together. Ideas now move at the speed of light. How easy is it to send an email to family and friends about the ideas you've learned from Ron Paul and many others like him? How easy is it to start a blog, or post sound ideas on Facebook and Twitter?
Ron Paul may be the public figure associated with libertarian ideas, but the rest of us have incredible tools at our disposal that never existed before. The goal is to convince enough people, without knowing how many that may be. Life is mysterious like that.
Who knows?
If you can convince some, and I can convince some, and those people convince some, the day may not be too far off that public opinion may tip once again, and head back in the direction that began 237 years ago.
---