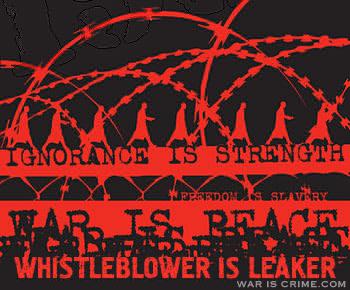 Are you sick of hearing the name-callers saying "Leaker". It seems they all got the memo the same day.
Leaker? Call the plumber, or perhaps call a Urologist, but don't call a Whistle Blower a Leaker. Leaker wasn't a word until this past week, it's newspeak.
A Whistle Blower has rights and legal protection. A Whistle Blower is Honorable, sounding the alarm, uncovering disgusting, secret, criminal behavior. He reveals that wimpy, evil little man behind the curtain for all the world to see.
We need a hundred thousand Whistle Blowers to step forward. If you see something, say something, the government is listening.
Wear a Whistle for the 4th Amendment:
The right of the people to be secure in their persons, houses, papers, and effects, against unreasonable searches and seizures, shall not be violated, and no Warrants shall issue, but upon probable cause, supported by Oath or affirmation, and particularly describing the place to be searched, and the persons or things to be seized.
---