Dheera Sujan |
RNW
4,132 views
January 27, 2009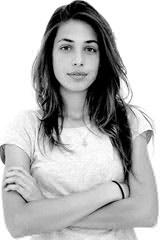 Omer Goldman is 19, she's Jewish, lives in Tel Aviv, she's a pretty girl and it's not hard to imagine her fulfilling her ambition to one day be an actress. But since she was eight years old, she also had another dream — she wanted to work with an organization like Amnesty International, hoping she could help make a better world.
Right now, her way of doing that is by going to prison. Choosing to go to prison rather than serve in the Israeli army — a compulsory requirement for all young Israeli citizens.
And Omer Goldman was not destined for prison. For most of her life she thought she'd join the army, and become a hero for her country. After all, her father is a former deputy head of Mossad, and still considered one of the most powerful men of the Israeli security establishment. Her older sister and most of her friends all did their military service without question.
But the second Lebanon war began to change Omer's mind. She visited Hebron, and started going regularly to the West Bank and saw how Palestinians lived, how they were treated.
Protest group
She took part in demonstrations, and she was with a protest group in a West Bank village and they were trying to pull down a checkpoint that had been built unnecessarily in the middle of the village
"It shouldn't have been there", she says, "they only put it up to harass the villagers." And suddenly the soldiers started firing on the group of demonstrators.
"This is the army that I was brought up to think was protecting me, helping me", she says, the shock of the event still evident in her voice. She was shot in the hand by a rubber bullet, and knew then and there that she would never wear the uniform of a force that committed such actions.
Meaningful time
On the day she was supposed to sign up, she turned up with about a hundred supporters. And she publicly refused to join the army. She was immediately taken to a cell, and then to a military court where the judge — a high ranking officer — tried to convince her that she could become a soldier and change things from the inside.
"You could give toffees to the Palestinian children on the checkpoints", he told her, apparently without irony. Her reply — "giving out toffees doesn't change the fact that I will be there illegally" — so incensed him that she was immediately given a harsher sentence than other conscientious objectors who stood out that day.
Omer has spent two spells in jail — despite her fear of prison, and her acknowledgement that it was an awful experience to be locked up in a middle sized cell with forty other women — she says that in retrospect that time was amongst the most meaningful in her life.
Shunned by friends
Omer is now exempt from conscription on medical grounds, but she continues to turn up to demonstrations, to speak out against what she sees as injustices committed by her countrymen and her government on an innocent civilian population. Her stance has cost her dearly. Friends have shunned her, strangers have physically attacked her, and her father refuses contact with her anymore.
So then why keep on? Why take such a stand? Her answer is firm:
"Because when this Occupation ends — in twenty years or thirty, though I hope it will be sooner — I want to be able to say I did something, that I didn't just stand by and watch this injustice…my being in prison has not helped one Palestinian I know, but at least I made a stand for what I believe to be right — to say that violence is not the answer."
---