It's not hard for any moderately observant person to see the oppressiveness of the state all around us. We are taxed, regulated, coerced, controlled, patted down, pulled over, censored, cited, and sued anytime we step outside of the ever-changing boundaries prescribed by the political and bureaucratic classes. Many take umbrage at these violations of our innate human freedom and dignity. We engage in all kinds of activities to push back against the state.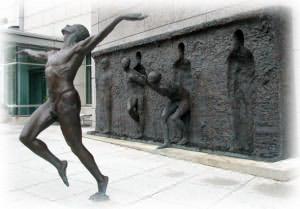 It doesn't always work, and certainly not immediately. It's all well and good to try to change the world, but how can we live fulfilling lives in the meantime? The world as it is is unfree. Today, I'm going to talk to someone whose focus is not on how to make the world freer, but on how to live free in the world as it is.
My good friend T.K. Coleman, creator of the blog Tough-Minded Optimism, has the audacity to claim that we can be free here and now, no matter what the world brings — and he practices what he preaches. T.K. has an amazing mind, is a lifelong learner, and somehow manages to maintain a mindset of freedom and optimism in some of the most oppressive circumstances. I have learned so much from him and look forward to my daily TMO emails as much as I do my daily LFT emails. He's going to share his philosophy and how he finds a state of freedom while surrounded by a state of oppression.
Morehouse: First, tell us just a little bit about yourself.
Coleman: I currently live in Los Angeles, where I'm actively pursuing my dreams in writing, entrepreneurship, and media production. I'm originally from Chicago, where I grew up in the era of the Michael Jordan's Bulls dynasty. I'm the son of a preacher man. My father is a pastor, and the majority of my childhood involved being immersed in church services and other related activities. While I wouldn't describe myself as religious, I'm one of the lucky few pastor's kids who grew up in an environment of organized religion without being emotionally scarred or turned off by many of its negative aspects. My academic studies and professional experiences range from philosophy and theater to financial analysis and public speaking. My true love is philosophy. I have a real passion for learning and contemplation. I enjoy pretending that things are more complex than they really are.
Morehouse: You recently had a horrible run-in with the police. Can you walk me through that experience?
Coleman: Sure. Basically, my wife and I were heading out to a Hermosa Beach comedy club for a date night. It was around 7 p.m. on a Friday. We were pulled over by a police car about two miles from where we live. Two cops got out of the car and one of them approached my window, while the other approached my wife, who was sitting on the passenger side. When I let my window down, he asked me if I had legit identification. I answered, "Yes, sir," and in an unexpected turn of events, he asked me to step out of the car.
Because I know that police officers are very sensitive to how they're spoken to, I always speak to them with the utmost respect and cooperation. I'm not interested in giving them any reasons to interpret my behavior as threatening. So I politely said, "Yes, sir," and stepped out of the car as instructed. The officer then put me against my vehicle and started to search me. He grabbed my wallet out of my pocket and sat it on top of my car. He asked me if I had a record. I said no. He asked me if I had any drugs or weapons on me. I said no.
Then he said, "This is how we do it in Los Angeles." At that point, he walked me over to his car and began searching me more thoroughly. After that, he threw me in the back seat of their car, and both officers started to question my wife. One of the officers went inside our car and started searching around. I had no idea what was going on. They never told me why they pulled us over. They never asked to see my license. They never asked to see registration. After questioning my wife for about 10 minutes, they came back to their car and did a background check on me.
After my record showed up as clean, they let us go. I won't sugarcoat the experience and say they were kind and respectful. They were rude and vulgar. They were physically aggressive with me, and they harassed my wife. They acted like bullies. At the end of the experience, they gave us no tickets, no warnings, no apologies, and no explanations. Just another day at the office for those guys, I guess.
Morehouse: Aren't you angry at the police? How do you live free when something like that happens, or can happen at any time? Did that incident challenge your worldview?
Coleman: While I certainly don't condone the manner in which those police officers treated my wife and me, I wouldn't describe myself as being angry with them. My absence of anger, however, has nothing to do with the cops. I am not angry, because being angry at them simply doesn't serve me in a constructive way. Everything that I want, can, and need to do about that situation is more effectively executed when I'm acting from a state of composure and self-control. Since being bitter at those cops offers me no incentives of the kind I would be interested in, I choose to focus my attention in a life-giving way. It not only feels better, but it's also a more creative and practical approach for me.
This might be a good segue into discussing a critical component of my philosophy. It's captured in the phrase "Never let anyone steal your fire." The basic idea is that we are autonomous beings who hold the unconditional power to dictate our inner disposition. While external forces may have the ability to impose unwanted conditions on us, we ultimately get to decide how we perceive and process the data of our experience.
Some people, for reasons as small as a bad night's sleep to factors as grand as being a victim of abuse, are out there carrying around all kinds of potentially harmful thoughts. When we interact with these people, it's extremely easy to let them determine our mood and, hence, our quality of life. Refusing to let anyone steal your fire means you don't become a sponge for other people's energy. It means you don't allow your inner spark, your enthusiasm, your passion for life to be snuffed out by someone who's taking their unhappiness out on you. If you let them steal your fire, they win.
Those police officers took control of my body, but they can't touch my mind. They had the guns and badges, but I have the dominant vibration because I won't give them the permission to influence my attitude. I win. They may have issues going on inside themselves, but I don't take ownership of their mess. They've probably ruined lots of people's days with their behavior, but not mine. When it comes to how I feel, I hold all the badges and the guns.
Morehouse: What was your response? Did you register any protest with the police?
Coleman: Because of the way the situation went down, I wasn't focused on their badge numbers. I was watching my wife the whole time. My focus was on her safety. Once they let us go, we got out of there. So I didn't have much information on them. But I did call my local police department and the sheriff's department, and they responded very respectfully to my concerns.
Morehouse: There are a lot of people that seek legal or political action or try to educate others in order to fight back against state oppression. Do you think that's the wrong approach?
Coleman: I have no problem with people who aggressively fight against oppression through legal and political battles. Some people get really fired up by that approach, and they seem to be quite effective at it. I say go for it. No matter what your cause is, you have to adopt an approach that charges you up if you want to have an impact.
I don't think there are "right" or "wrong" approaches in a legalistic sense. I think there are approaches that are more or less effective in relation to desired goals. So if you have a way of going about life or politics or whatever, then I really have no criticism to offer. It's up to each person to do the cost-benefit analysis on their actions.
Those of us who consider ourselves advocates of freedom comprise a diverse community. Some of us like to get out on the front lines and fight as political activists, while others prefer a more indirect educational approach. I'm pretty nondogmatic about all of this. If you support freedom, I support you.
Morehouse: Isn't your worldview just naive, fairy tale stuff? It can sound like feel-good mumbo jumbo to someone who's got a boot on their neck. Are you too idealistic?
Coleman: Well, I should begin by challenging the distinction between the guy who has the boot on his neck and the guy who doesn't. Lots of self-help gurus let people get away with this, and I think the results are tragic because they allow people to frame messages of hope in a way that's significantly disadvantaged. If by "boot on your neck" you mean the experience of pain and suffering, then we all have a boot on our neck in some capacity.
Who's the guy that purports to teach you and me a lesson on what it REALLY means to suffer? One person has money problems, while another has health problems. One person can't find true love, while another grieves the loss of their soul mate. One person has all the money they need, but can't overcome the trauma of a lifetime of childhood abuse. Another person grows up with the perfect family, but is constantly harassed and teased because of the way they look. I could go on and on, but my point is this: It's easy for one person to use their particular experience of difficulty as the definition of what it means to struggle, but no one has a monopoly on heartbreak and hardship.
My suffering is as real to me as yours is real to you.
Whether we share the same philosophy or not, we all share the human experience of being vulnerable to death and disappointment.
It's unwarranted to assume that optimists are optimists because they don't know what it feels like to have a boot on their neck. That basically assumes that we would all be pessimists if we were only smart enough to realize how bad the universe actually is. I think it's the other way around. I've never seen a pessimistic belief that was capable of surviving a few well-thought-out questions. So I think pessimism is the fairy tale. I think pessimism is too idealistic.
I became an optimist not because I have a ton of evidence for how awesome life is, but because I lack sufficient evidence to make negative judgments. I arrived at an optimistic perspective through the back door of skepticism, rather than the front door of faith. The real enemy of pessimism, in my opinion, is not positive thinking, but critical thinking. For me, optimism isn't about deluding yourself with positive BS. It's about refusing to delude yourself with negative BS. It's about subjecting the doom-and-gloom perspective to the same sort of scrutiny we apply to the Pollyanna perspective.
So no, this isn't about feel-good mumbo jumbo. It's about feel-good mental judo. It's about using your intelligence in way that's healthy, productive, and personally fulfilling. It's not about throwing your brain out the door. It's about throwing your BS out the door.
Here's another point: Either an idea is useful to you or it's not. If it's useful, use it. If it's not, throw it out. Forget the labels. Use what's useful no matter what it's called. This isn't a religion. Nobody's required to believe anything that doesn't rub them the right way. I haven't received any messages from beings who've come from outer space, so there's no special reason why you ought to listen to me. Your experience is your authority. If something works, there you go. If not, don't waste your time arguing with me. I'm just some random happy dude who found his own way. Go find yours.
Morehouse: Isn't it kind of selfish to opt for this Zen-like retreatism for your own personal happiness while people suffer all around you? Shouldn't you take action to help them be free in the physical sense?
Coleman: I personally don't advocate retreatism. I don't think we should all just sit around drinking green tea 24 hours a day, but I also would hesitate to join the chorus of those who worship the gods of guilt-driven, duty-based, obligatory activism. I think Howard Thurman nailed it on the head when he said, "Don't ask what the world needs. Ask yourself what makes you come alive and then go do that. Because the world needs people who have come alive." I swear by that saying.
The real tragedy of charity in contemporary culture is not that too few people are helping out, but that too few people have an appreciation for the social and economic value of self-interest.
Now here's another interesting point… I don't think optimistic philosophy is causing the number of charity volunteers to decline. If anything, it's the other way around. When you are afraid of the world, when you feel like a worthless drag, when you believe evil prevails over goodness, when you believe your life is harder than everybody else's, what causes are you going to be signing up for? Who are you going to be a benefit to with that kind of mentality?
The people who are most likely to help others are the people with beliefs that reflect an inner sense of abundance. They see themselves as having something to offer (even if it isn't money). They believe in their capacity to make a difference. They believe in the potential of those they help. Those are all the same ideals I advocate.
Morehouse: I'm a big fan of books and articles on economics, political philosophy, history and other areas that illuminate the problems of the state and reveal the power of markets. Do you think it's unhealthy to spend so much time with these ideas? Would I be better off remaining uneducated about the problems of the state — in other words, is ignorance part of the "bliss" you're trying to achieve?
Coleman: I think it varies from person to person. If it gets you going in a constructive way to study those things, then study away. If it's making you paranoid without adding benefits that offset the costs of your paranoia, then it might be time to find a healthier and more fulfilling hobby. A good analogy for this would be The Lord of the Rings. One character was able to carry the burden, while another was transformed into a demon by those same burdens. There's nothing wrong, as a matter of principle, with putting your attention on so-called "bad news." You just have to be your own judge and have a good feel for the burdens that you can handle.
If we're going to say "Ignorance is bliss," then we should be careful to define what kind of ignorance we're talking about, because ignorance of one's rights and possibilities, for instance, is certainly not blissful, in my opinion. I'm not actively pursuing ignorance as a spiritual path. For me, intelligence is bliss, understanding is bliss, and creativity is bliss, so those are the sorts of qualities around which I build my particular brand of optimism. Another way to put it would be this: Optimism is not the denial of truth, it's the recognition that truth isn't something we need to run from or be afraid of. When you take yourself seriously as a creative force, you can face the truth with confidence and composure.
Morehouse: So how do you balance being knowledgeable about the way the world works with not getting angry at its deficiencies?
Coleman: For me, exposing my mind to the truth is not a discouraging exercise. If confronting the truth feels like you're being whacked upside the head with a billy club, it may be because you're beating yourself up unnecessarily, you're communicating the truth to yourself in an unhealthy way, or you're predominantly focusing on those parts of the truth that are most challenging to you.
People don't feel beaten up and broken down because of the truths they discover. They feel beaten up and broken down because of the other truths they omit and overlook. If your encounters with truth are failing to increase your sense of personal freedom, the solution is not less truth, but more truth.
If you focus on the world's deficiencies and stop there, then you'll probably feel like crap. But why stop there? It's intellectually dishonest to focus on what's wrong with the world without acknowledging our rich history of overcoming incredible odds. It's delusional to lie to yourself about all the crap that's going on in the world, but it's also delusional to lie to yourself about being unable to create positive changes. The truth is the truth, even when it's not negative.
So for me, I find that balance by taking a holistic approach to my studies. I don't limit myself to just one perspective. I study the problematic truths and the promising ones.
Morehouse: Any final thoughts?
Coleman: My message to the world in a nutshell is quit trying so darn hard to be positive. Optimism isn't about making positive assumptions, nor is it about forcing yourself to feel good. Optimism is simply the art of remaining open to possibility. In other words, what happens when we are no longer occupying the mind with our judgments, labels, and dogmatic opinions. When we are not trying to artificially make ourselves believe that life is great and when we are not busy assuming that it's the end of the world, we are left with nothing but possibility.
That state of being open to possibility without judgment is the source of creative power, personal growth, inner peace, and pleasant emotion. Positive assumptions are needed only when you have negative assumptions that you're trying to overcome. But when you drop your assumptions altogether, your soul stands naked in the open fields of possibility. And what you choose to create from that space is up to you.