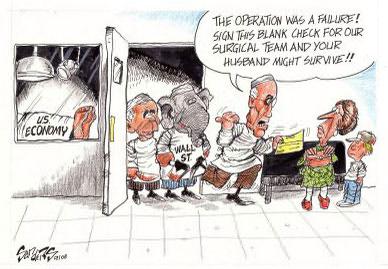 A man goes to his doctor for a routine checkup. The doctor performs a perfunctory examination and informs him that unless he receives an experimental treatment the doctor has devised, he will soon become disabled. "What's it cost, Doc?" the man asks. "Well, unfortunately it's not cheap, Mr. Smith, and I can't tell you exactly how much the total cost will be until the entire treatment has been completed, but unless you get this treatment, you will soon be in big trouble."
The man agrees to undergo the treatment. He has to sell some of his possessions and go deeply into debt to pay for it, but, relying on the doctor's advice, he believes that the alternative to getting the treatment would be catastrophic.
After the treatment, however, the man actually feels worse than before. So he visits his doctor and is startled when the doctor reports that he has relapsed and must undergo the same treatment again or he will probably die. As before, the doctor cannot say in advance how much the treatment will cost.
So, the man sells more of his possessions and goes even further into debt to finance the treatment. To his surprise, shortly after its completion, he feels even worse, and the doctor informs him that he has relapsed again and will have to undergo the treatment again lest he die shortly.
The man sells his remaining possessions, exhausts his capacity to borrow, begs money from his relatives, and has the treatment a third time. After its completion, he feels horrible. Once more, the doctor reports that his condition has not been improved and therefore he will have to undergo a fourth round of treatment.
This time, however, the man is completely broke, so he resigns himself to his imminent demise, puts his personal affairs in order, spends as much time as possible with close friends and family members, and waits to die.
But he doesn't. Indeed, after a year, he is still alive and feels much better than he did immediately after his treatments. To everyone's astonishment, he returns to work, feels fine, and considers himself lucky to have had a spontaneous recovery from a disease that threatened to take his life.
Having repaired his financial condition after ten years of normal, happy, healthy working life, the man's curiosity gets the best of him and he visits a different doctor, an old Austrian, who examines him thoroughly and reports: "There is absolutely nothing wrong with you; nor do I see any indication that anything was seriously wrong with you before you began the treatments. You appear to have been misdiagnosed and treated for no good reason, and the treatments made you sick. When the treatments stopped, you returned to your previous, normal, healthy condition."
(The foregoing is a parable about government intervention in the economy.)