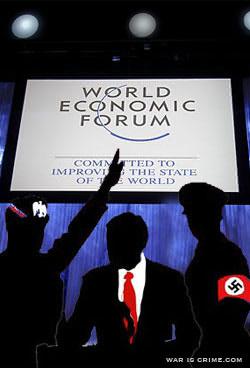 This is very serious. The elitist power grab is going right at the heart of capitalism. Of course, they have always been for central control, with them in control, but now they are calling out capitalism, directly, as an inferior product.
On Friday, I attacked Larry Summers for blaming the current crisis on capitalism. I thought he was a lone wolf attempting to see how far the anti-capitalist agenda could be pushed. I was wrong.
It appears Summers simply fired the first shot in a new aggressive move by elitists to discredit capitalism outright. The elitists are gathering in Davos, Switzerland right now for the 2012 World Economic Forum.
Check out this horrifying report from AFP on the Summit (my emphasis):
Economic and political elites meeting this week at the Swiss resort of Davos will be asked to urgently find ways to reform a capitalist system that has been described as "outdated and crumbling."
"We have a general morality gap, we are over-leveraged, we have neglected to invest in the future, we have undermined social coherence, and we are in danger of completely losing the confidence of future generations," said Klaus Schwab, host and founder of the annual World Economic Forum.
"Solving problems in the context of outdated and crumbling models will only dig us deeper into the hole.
"We are in an era of profound change that urgently requires new ways of thinking instead of more business-as-usual," the 73-year-old said, adding that "capitalism in its current form, has no place in the world around us."
Some 1,600 economic and political leaders, including 40 heads of states and governments, will be asked to come up with new ideas as they converge at eastern Switzerland's chic ski station for the 42nd edition of the five-day World Economic Forum which opens Wednesday.
From a press release on the Davos forum:
The Davos Open Forum celebrates its 10th anniversary with a programme including a top-level debate on the future of capitalism.
As I pointed out in my comment on Summers, capitalism has nothing to do with the current crisis. It is the interventionist measures (especially central banking) that have caused the current crisis. These measure have distorted capitalism and yet these elitist schemers, who are largely to blame for the crisis, have the chutzpah to blame the crisis on capitalism and to call for more interventions that will benefit no one but the elitist themselves.
Folks, it looks like they are going for the BIG GRAB. Not good. Not good at all.
Among those expected to be in Davos are:
Christine Lagarde, IMF Managing Director
Kumi Naidoo, Greenpeace Executive Director
Robert Zoellick, World Bank President
Bill Gates
David Cameron, UK Prime Minister
John McCain, U.S. Senator (R-AZ)
Nouriel Roubini, Professor at Stern School, NYU, Chairman of Roubini Global Economics
Ehud Barak, Deputy Prime Minister and Minister of Defence of Israel
Gordon Brown, UK Prime Minister (2007-2010)
Jean-Claude Trichet, President of the European Central Bank (2003-2011)
Sheryl Sandberg, Chief Operating Officer, Facebook
Sean Parker – Napster, Plaxo, Facebook, Causes, Spotify & Airtime
Peter Voser, Chief Executive Officer, Royal Dutch Shell
Ed Miliband, Leader, Labour Party, United Kingdom
Paul Polman, Chief Executive Officer ,Unilever
Vikram Pandit, Chief Executive Officer Citi
Yasuchika Hasegawa, President and Chief Executive Officer, Takeda Pharmaceutical
Peter Brabeck-Letmathe, Chairman of the Board, Nestlé, Switzerland
Nabil Elaraby, Secretary General of the League of Arab States
Bill Gross, Founder of Technology Incubator Idealab
Michael Dell
Xavier Sala-i-Martin, Professor of Economics at Columbia University.
Tony Blair Office
Congressman Darrell Issa
Raila Amolo Odinga, Prime Minister of the Republic of Kenya.
Neelie Kroes, Vice President of the European Commission, "responsible for the Digital Agenda for Europe".
Pete Cashmore, CEO and Founder of Mashable.com.
Joseph E. Stiglitz
Paul Allen
Goodluck Jonathan, President of the Federal Republic of Nigeria
Michael Porter, Bishop William Lawrence University Professor, Harvard Business School. Director, Institute for Strategy and Competitiveness.
Shadi Hamid, Director of Research at the Brookings Doha Center & Fellow at the Saban Center for Middle East Policy at the Brookings Institution.
Bruno Ferrari, Secretario de Economía de México
Mabel van Oranje, CEO of @TheElders, Co-chair of the European Council on Foreign Relations
And apologist reporters for the elitists:
Tina Brown, editor-in-chief of The Daily Beast and Newsweek.
Andrew Ross Sorkin, New York Times Columnist & CNBC Squawk Box
Maria Bartiromo, Anchor CNBC Closing Bell
Alan Murray, Wall Street Journal Deputy Managing Editor and Executive Editor Online
Thomas L. Friedman, NY Times columnist
Felix Salmon, Reuters
Henry Blodget, Business Insider
Here are the Strategic Partners of the Forum:
ABB
Abraaj Capital
Accel Partners
Accenture
Adecco Group
Adobe Systems Incorporated
Aetna
Agility
Alcatel-Lucent
Alcoa
Apax Partners
ArcelorMittal
AUDI AG
Bahrain Economic Development Board
Bahrain Mumtalakat Holding Company
Bain & Company
Bank of America
Barclays
Basic Element
Bill & Melinda Gates Foundation
Bombardier
Booz & Company
BP Plc
BT
Burda Media
CA Technologies
Chevron
Cisco
Citi
Clayton, Dubilier & Rice, LLC
Clifford Chance
Credit Suisse
Deloitte
Deutsche Bank
Deutsche Post DHL
Dogus Group
DuPont
Ernst & Young
Eskom Holdings SOC Limited
Fluor Corporation
GDF SUEZ
GE
Goldman Sachs
Google
Hanwha Group
HCL Technologies Ltd
Heidrick & Struggles
Hewlett-Packard Company
HSBC
Huawei Technologies
IHS
Infosys
Intel Corporation
JPMorgan Chase & Co.
KPMG International
Kudelski Group
Lenovo
LUKOIL
Mahindra Satyam
ManpowerGroup
Marsh & McLennan Companies (MMCo)
McKinsey & Company
Merck
METRO GROUP
Microsoft Corporation
Mitsubishi Corporation
Morgan Stanley
National Bank of Kuwait
Nestlé
Nike Inc.
Nomura Holdings
Novartis
NYSE Euronext
Omnicom Group
PepsiCo
Prudential
Publicis Groupe
PwC
Qualcomm
Reliance Industries
Renault-Nissan Alliance
Roland Berger Strategy Consultants
Saudi Basic Industries Corporation (SABIC)
Sberbank
Siemens
SK Group
Standard Chartered
Swiss International Air Lines
Swiss Re
System Capital Management
Takeda Pharmaceutical
Tata Consultancy Services
The Boston Consulting Group
The Coca-Cola Company
The Dow Chemical Company
The NASDAQ OMX Group
The Olayan Group
Thomson Reuters
Troika Dialog
UBS
Unilever
VimpelCom
Visa Inc.
Vision 3
Volkswagen AG
VTB Bank
Wipro
WPP
Zurich Financial Services
---