For the 18th of September (19th in Australia).
United States / Canada /Mexico
Vandenberg activities have been scheduled for several days now if you've followed the tracking. Southern California will spare a major spraying operation. However the Central California area will not. Been awhile since this place has been scheduled for spraying and will go with extreme activity in there area. We are out of near Riverside, California and most likely will not see heavy trails here at all. Everything will be North of our location.
The Pacific Northwest is due for spraying out ahead of a storm that will drop rain on friday. So remember this. Toxic chemicals can be rained down. If outside it can be harmful for your health.
Canada will suffer a major attack across almost the entire country. Cameras out, because this one looks major. This operation will be connected to a massive spray operation over the Chicago, Kansas City, and Kansas areas. The Twin Cities will also be on this. Very, very heavy spraying will result. Look for spraying over the Eastern Florida Coastal areas as well.
Keep Dallas, TX in the clear today.
Spraying across Houston will resume. Odd as this seems. What are they hiding there they don't want the skies to be so clear?
Mexico will have spraying once again out of Southern Texas.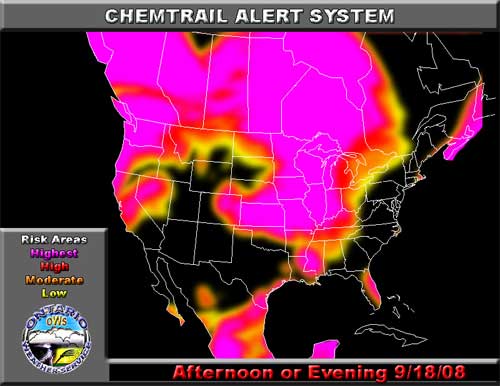 ---
Europe
Photos from Europe yesterday resulted in extreme spraying. The operation was true and today it will be worse. Talking about almost the entire country of Europe affected.
Those of you that said clear skies in spain to me have been getting just sprayed to all degrees lately.
Paris, you are in this again as well it seems! (WarIsCrime comment: "Yes we are! And not proud to be…")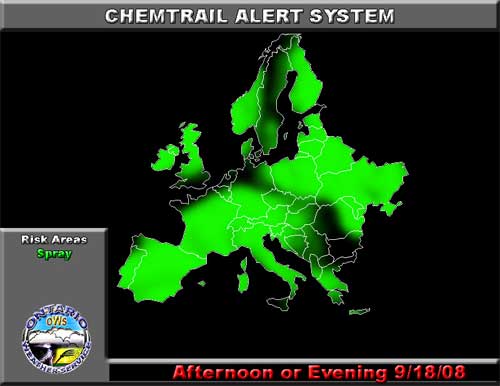 ---
Australia
Australia is not much of a target right now. We will have some fleets out in the Southeastern sections of the country today and this will be a chemtrail spraying event over communities there. many places look good right now and i'm sure most Australians can see this change.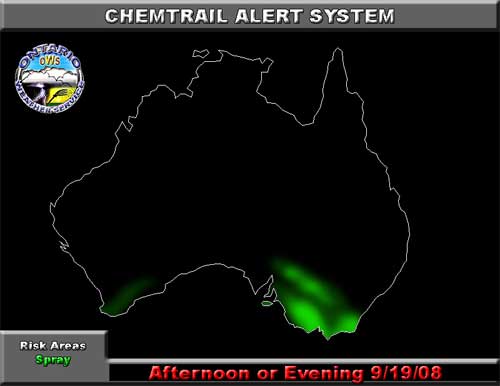 ---
Chemtrail greetings from Paris, France: September 18, 2008 – 9:43am GMT+2. (photo by Paul Bondarovski). – "From the early-early morning to the early-early night…"