WARNING: Extreme activity across the Florida to New Mexico today. Ike is on the way for some, and Lowell for an increase in storms for the Southwestern USA for others.
Map below is for the afternoon and evening of September 10, 2008.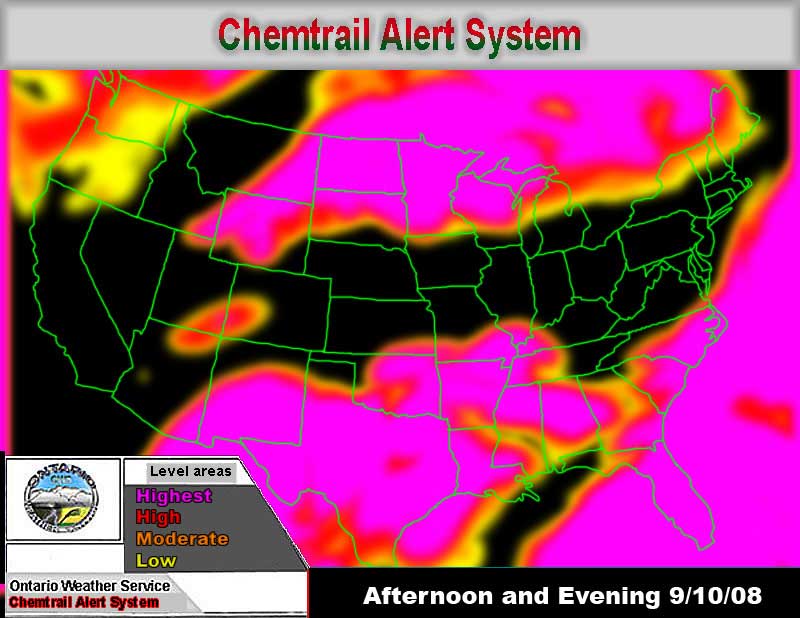 For Wednesday the 10th of September we can expect the same across the Southwestern USA. If you live in the Southern California area you will notice the skies have been perfectly blue for you. This seems to be the case and will be today as well. Southeastern AZ into New Mexico will take a beating today. This activity will go all the way across Texas and Oklahoma, spreading Eastward through the Gulf States and into Florida.
If you live in the Ohio River Valley you will again have no trails in your skies today, on over into Pennsylvania.
The Pacific Northwest and Western Canada will be on High Alert today as trails return to the area. You had a break somewhat yesterday, however this will end today. Expect spraying to continue over the Northern USA. So far thinking Chicago will stay out of the operation.
The chemtrail alert system maps now show areas of low to highest activity now. The map can be used as similar to current flu pandemic maps to plan your day.
OWS forecasts category 5+ hurricane. A hyper-cane in the Gulf of Mexico. Also for more discussion on IKE visit CLIMATE PATROL.
Featured Photo: "Triple Threat" Kirkland, Wa – Photographer snaps a triple threat attack on September 8th, 2008.