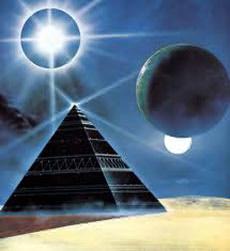 I love stories about discoveries of mysterious, ancient, massive, stone ruins, such as the so-far-unexplained structures recently uncovered in the Ecuadorean rain forest.
How about the thousands of multi-ton, megalithic structures in the Russian Caucasus? Click the link. Think you could build even one of those things with the help of a couple of neighbors, a cold chisel and a mallet or two?
While I'm at it, what about the multiple levels of blocked off, locked off passages, chambers, tunnels and shafts beneath the Giza pyramid and temple complex in Egypt? My Arabic instructor back in the early 1990s was an Egyptian military intelligence officer who told me that the Egyptian military had extensively explored the underground workings beneath Giza. According to him there are literal miles of tunnels in the labyrinth, going down, level after level. I twice visited Giza and, indeed, I saw myriad openings to the underground, shafts going down and down, numerous openings into the plateau physically padlocked closed with metal gates or grills, and plenty of guards armed with high powered rifles sitting around on camels keeping an eye on everything and everyone. I saw archaeologists excavating underground in the very shadow of the pyramids. In my personal presence, one of them came up from deep underground with a miner's helmet and lamp, like I used to wear years ago when I was a salt miner down on the Louisiana Gulf coast. After all of these years there is still serious archaeology going on deep underground, in the immediate vicinity of the Egyptian pyramids and we hear nothing about what is being discovered. There is the mother of all cover-ups in place when it comes to the true history of ancient Egypt.
I might add that I had the impression of looking at structures that were maybe fifteen thousand years old, or perhaps even older, when I was in the presence of the Great Pyramid and the Valley Temple near the Sphinx. On close inspection it seemed to me that large areas of the plateau had been artificially built up a very long time ago. Oh, by the way, I noticed at least two ancient doorways that enter the base of the Sphinx. One near the front, another at the rear. Yes, there are internal passages inside the Sphinx and probably hidden levels beneath it, too. But all of that is locked off, blocked off. Ganz verboten. Oh, we have been so lied to, about most everything. I won't get much into my very clear, deep dreams here about Egyptian remote antiquity and my remembered activities there, mostly because I don't know exactly what to make of them, other than that according to the dreams, I had one or more highly interesting lifetimes there engaged in the field of what might be loosely called ":civil engineering," or more appropriately "harmonic engineering." I was in charge of certain things and there were capable men under me. I didn't so much order them around, as I did synchronize their efforts. The analogy would rather be to a conductor or a composer and a philharmonic orchestra rendering a high order symphonic production. My distinctive arraiment precisely bespoke my exact charge and station. There was large machinery, though no trace of it remains today, at least not publicly. I have no more to mention.
Some people say that past, present and future all actually play out simultaneously. That linear time is an illusion. If true, I suppose that could be reason enough to lock off and block off access to the subterranean labyrinth at Giza. Think of it — what if someone like me would get down there and stumble across something that was left there 18,000 years ago for the "me" now by the "me" then — to simultaneously connect the "past" and the "future" in the eternally present moment of "now" — thus decisively breaking an artificially imposed amnesiac block to directly perceiving the infinite eternity of now. Or something like that ?
There's more. What about the vastly ancient ruins in Turkey?
Why stop there? Check out the many Youtube.com videos of Brien Foerster about the ancient ruins, cone-headed human races and mysterious civilizations of ancient Peru and Bolivia. And be sure to check out the many videos and books of David Hatcher Childress. He has literally traveled the world, visiting site after site of unexplained ruins from vastly ancient, unknown civilizations. I don't want to leave out the work of Graham Hancock, who has written about the evidence for previous cycles of advanced civilization. Also do a key word search on the Bosnian pyramids and the Chinese pyramids.
Read Forbidden Archaeology, by Michael Cremo and Richard Thompson. It's a paradigm-busting book that reveals that the history of humanity on this planet goes back millions of years, maybe even hundreds of millions of years. They blew the lid off the mainstream, academic cover-up of our hidden history and have been attacked by academic historians, archaeologists and anthropologists for doing so.
There is a massive amount of information now available on the Internet and in a wide variety of books and videos that points unambiguously to a vast antiquity for the human sojourn on this planet, and repeated cycles of civilization, including extremely technologically sophisticated societies in the distant past.
We also have the voluminous, south Asian, Vedic record. Back in the late 20th century I did many fasts, some of them quite long. On one occasion I was doing a 20 day water only fast, and out of sheer boredom I spent a few days poring over some of the Vedic literature, the Ramayana and some of the other great classics. It blew my mind wide open. I was astonished by the repeated references to the celestial beings, the heavenly planets, their aerial flying cars, their comings and goings from said planets to and from the Earth, the vimanas, trips to the Moon, and more. It was clear to me that I was reading the historical record of an advanced, technical civilization, an advanced space-faring civilization that existed on this planet a very, very long time ago.
I could go on and on, but if you explore even the brief introduction I have provided here to humanity's "true" history, as opposed to the nonsense you had crammed into your head in school and at university, you will quickly realize that you have been massively, systematically lied to.
Why should that be ? Why all the lying ? I do not know. It just makes no sense. But clearly someone or something, manipulating things from behind the scenes, does not want us to know the true history of this planet and the true history of humanity. So there has been a persistent, highly organized, thousands of years long effort to thoroughly confuse and lie to all of humanity. It is very bewildering.
Having Said That …
It is clear that the veil is being rent, in view of the numerous books, videos and websites that are now exposing to public view so many extremely ancient archaeological sites and ruins all over the world. International travel is also much more affordable and common now than in the past, making it possible for millions of people to visit ancient sites for themselves and draw their own conclusions as to what they are viewing.
As a consequence we are on the brink of a sort of BIG mass awakening from the ancient amnesiac spell that has been cast over us.
When faced with believing the corrupt pronouncements of corrupt historians in corrupt Ivy League universities or their own lying eyes — many people are now doing the natural thing and rejecting the corrupt fibs and corrupt confabulations of lying, corrupt, professional academics at Yale, Harvard, Brown, Columbia, Penn, Cornell, Princeton, etc. And why leave out Stanford and Chicago? By the way, did I mention how corrupt these institutions of "hired" learning are ?
Oh, my! I just realized that I have implied that a lot of Ivy League scholars are "pros." That they, um, just do it for money. How very rude of me.
…