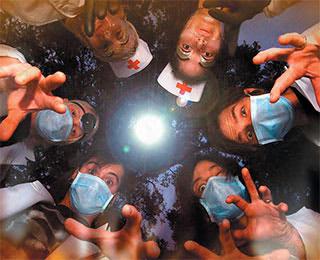 I decided to write this book because a lot of people who read the last one (Doctors Are More Harmful Than Germs) want to know how to actually find the root and work with it rather than treat symptoms.
The theory sounds great, but the reality for most people is that they are trying to keep cholesterol numbers down. Insurance companies reward for that. Doctors praise for it. You feel like you are successfully dealing with your health problem. And in our day and age, we have been trained to believe that invasive procedures like biopsies are the only way to know what is truly going on. Seeing believes.
There are two conundrums here. Number one, how to get past the siren call of the tried-and-true mainstream approach to chronic health conditions. And number two, what to actually do if you're not going the route of mainstream medicine: tests, chronic drug use, and procedures.
The view of the blood that I showed you in the microscope you will never see in your doctor's office. Mainstream medicine never looks at the blood like that. They don't teach that it's possible to look at it that way. What's crazier to me is that most doctors aren't even curious about it. Do you know, I once had a chief of hematology refuse, point blank, to put his eye to my microscope? Can you believe that? A medical doctor whose specialty is the blood, and he has no interest in seeing blood while it's alive. Where is the scientific curiosity?
You might be more curious than that doctor was, but those two conundrums invariably will dog you. Medicine's history in the U.S. has linked them inextricably. The first, how to avoid the siren call of mainstream medicine, is philosophical, but it's huge. Everyone has a lifetime of conditioning and propaganda, to the extent we are not consciously aware of it. Very tricky. There always seems to be a point where, from stress or habit or fear, or all three, people turn to mainstream medicine as the most likely source of answers. It doesn't matter that the answers aren't there, we want to know.
To that conundrum I can only suggest practice. Practice looking from a different vantage point. Practice observing rather than rushing to act. Unless you are having a life and death emergency, practice watching how a health concern unfolds. Instead of rushing to the doctor with sore muscles after a workout, pay attention to those muscles. What movement makes them hurt? Does movement like walking make the muscles feel better? When you choose to act, do so deliberately, knowing that your eyes are open wide, and keep observing. Notice how your body is reacting. If movement helps your sore muscles, can you do some gentle stretches to ease the soreness?
Make adjustments, even if that means stopping something that you previously agreed to. If stretching in one direction doesn't help, try the opposite direction. Whatever you do, don't become so passive that you are just a faceless body being acted upon. Don't just lie in bed wishing for a doctor's appointment so they can fix your problem for you.
Be very deliberate in what you allow, when you allow it, and how you follow through. Practice trusting that what you observe is the truth. If gentle stretching and movement helps your soreness, try doing that for a few days and notice whether the soreness resolves on its own.
Suppose you've observed and now you're ready to act, but you've decided that you don't want to go the route of tests and drugs and procedures. Start where you're most comfortable. Taking different route to resolving your health concern doesn't require you to turn your back on mainstream medicine. I'm asking you to pay attention to the very real limitations. All of the answers are never in one place.
There is nothing wrong with talking to your doctor if you have a good rapport with them and you trust them. You might discover that your doctor is very interested in how you might address a health concern without tests, drugs or procedures. Lifestyle changes, for instance, can do a lot of good, and your doctor may be just the cheerleader or moral support that you need to go after old habits. Maybe it's your doctor who recommends seeing a massage therapist before racing off to get an MRI.
More and more doctors today are learning how to affect health in other ways, and deep down most are interested in causing you as little harm as possible. They've been hampered for years by a culture and industry that not only denies everything but drugs and procedures, but that also mocks and derides other approaches from day one of medical school.
Regardless of how you begin, start looking for a good structural practitioner as soon as possible. This is a person who really understands how alignment of the body and all its components affects health. People with this expertise may be osteopaths, acupuncturists, and chiropractors or massage therapists.
But don't accept just anyone with these titles. Look for osteopaths trained in cranial manipulation. Chiropractors who specialize in network spinal analysis understand the role of the soft tissues, as well as bones, in structure. Similarly, seek out massage therapists trained in therapeutic techniques such as cranial sacral therapy, visceral manipulation, neuromuscular therapy and myofascial release. Although acupuncturists focus on changing energy flow, their goal is the same as those who work with the physical body directly.
The best practitioners can have long waiting lists for initial appointments; so don't wait until you are in a crisis to find someone. Structural alignment is so critical to good health, this is one particular area where you really need to work with someone regularly, especially if you have a chronic condition of any kind. These are the people who can help your body return to optimal functioning after an injury or surgery. They can also help to prepare your body if you are facing surgery so that the damage and repercussions are minimized.
One of the most famous of all structural therapists, the father of osteopathy Andrew T. Still, said that "order and health are inseparable… When order in all parts is found, disease cannot prevail…" He was referring to the structural alignment of the body as well as the relationships between all organs, systems, nerves, blood vessels, fluids, bones, and so on.
Other practitioners have expanded upon this in referring to flow, or movement, that is inherent throughout the body. Everything moves. And when something does not move, that sets the stage for health problems. Flow stops wherever there is a scar, and where the body has twisted or contorted itself in trying to work through a health problem.
The goal is simply to open up the point where there is a blockage, rather than to inflict an action at that point. For example, air does not flow through a closed window. You can open the window by unlocking it and using the existing window hardware to gently open it. Or, you can take a hammer and smash the glass. Both methods achieve the result of opening the window, but breaking the glass causes permanent damage. This is the difference between working with a structural practitioner and working with mainstream medicine. Most so-called alternative medicine schools teach the least possible intervention for this very reason.
Lastly, a naturopath can help you find and resolve the root cause of your health concerns. Rather than focusing on symptoms, naturopaths are trained to find the underlying concern that the symptoms express. They support and work with structural practitioners while supplying the body's healing efforts with needed nutrients.
A talented cranial osteopath will be able to set you up for a positive change for virtually any health problem, simply by tuning in to your body. Acupuncturists work with the flow of energy through the body, particularly looking for places where the energy flow has stopped, the stagnations. I honestly cannot recall anyone among my clients who has not seen benefits from structural work. You owe it to yourself to find someone.
There are numerous online directories where you can find structural practitioners near you. These are listed in the resources section of this book. It is more important to find someone who is really good rather than someone with a long list of techniques to their name. Your doctor may surprise you with a really good recommendation.
While you are searching out other health practitioners, keep in mind that most practice by treating diagnoses and symptoms. These other practitioners I've mentioned usually have a long intake interview for your first visit. Use that time to ask your own questions and get to know the practitioner's approach.
Do they focus on what tests you've had, the results and your deviation from normal results? They're focused on symptoms.
Does the practitioner want to know the events and timing when you began to feel your health declining? They are looking for a root cause.
Does the practitioner ask you about popular health issues like vitamin D deficiency and wheat sensitivity rather than your specifics? They're going to offer you a protocol and probably treat something different than your problem.
Does the practitioner get excited about discovering cause and effect (links between earlier events and later problems) in your story? They're going to focus on your particular situation and needs.
Practice observing a health practitioner just as you is practicing observing your own health. While you might have to talk to a few people to find the right fit for your situation and needs, a little extra time spent searching will ultimately land you the best possible long-term partnership.