Paul Bondarovski |
War Is Crime
4,840 views
October 18, 2008
If your son is a soldier, then you have no son. If your daughter is a soldier, then you have no daughter. If your father is a soldier, then you have no father. If your mother is a soldier, then you are a motherless child.
Solders are not humans. Humans have millions of choices, but soldiers have only two: to kill or to die. A living soldier is a killing one. Even if he doesn't realize it, he is always ready to kill. It is his raison d'être.
Sometimes they kill other solders, who, like themselves, have only two choices. But most often they kill humans — people with millions of choices.
When you say, "Welcome home," to a soldier coming alive from war, you don't say it to a hero but to a coward. If you want to see the real heroes, go visit a prison they have been thrown to for having the courage to refuse to become on-demand murderers.
When you are told soldiers are there to defend you, ask them to show you a single part of a gun which is made to defend. It has none. Guns are made with a single purpose: to kill.
You think they only kill "others." But "others" have already been killed. Remember, "War is over, if you want it"? You could have stopped it by just wanting to, but you haven't. So it's your turn now.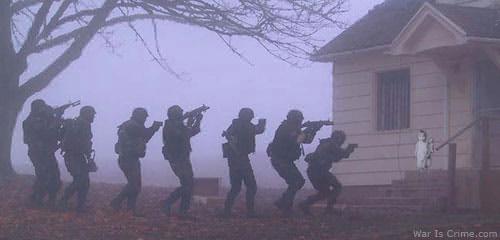 You think soldiers kill only at war and only the enemy. But look around, they are here, in your Peace Street, with their fingers on the triggers. What is a home for you is a battlefield for them. You are a human being with millions of choices and, as such, an alien in their eyes.
If you disagree and still have illusions about soldiers, read what Jack London wrote about a century ago, in November 1915, and what he had been killed for a year after.
---
The Good Soldier
Jack London, November 1915

Young men:
The lowest aim in your life is to become a soldier.
The good soldier never tries to distinguish right from wrong. He never thinks; never reasons; he only obeys.
If he is ordered to fire on his fellow citizens, on his neighbors, on his friends, on his relatives, he obeys without hesitation. If he is ordered to fire down a crowded street when the poor are clamoring for bread, he obeys, and sees the gray hairs of age stained with red and the life tide gushing from the breasts of women, feeling neither remorse nor sympathy.
If he is ordered off on a firing squad to execute a hero or a benefactor, he fires without hesitation, though he knows the bullet will pierce the noblest heart that ever beat in human breast.
A good soldier is a blind, heartless, soulless, murderous machine. He is not a man. He is not a brute, for brutes only kill in self-defense.
All that is human in him, all that is divine in him, all that constitutes the man has been sworn away when he took the enlistment oath.
His mind, his conscience, aye, his very soul, are in the keeping of his officer.
No man can fall lower than a soldier — it is a depth beneath which he cannot go. Keep the boys out of the army. It is hell.
Down with the army and the navy. We don't need killing institutions. We need life-giving institutions.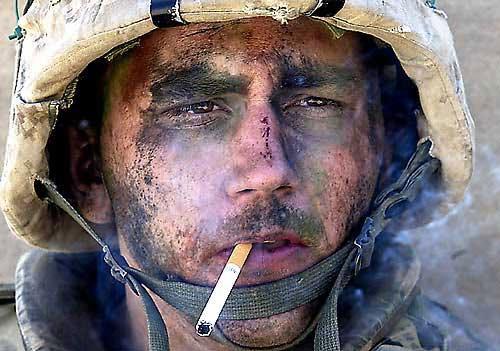 "I'm just doing my job, just following orders, just killing, mom…" (Photo by Regimental Oneton)
---