77% of Swiss voters rejected a proposal for a guaranteed income of $2,563 per month for every adult.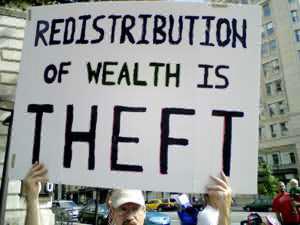 Opponents of the proposal said it would cost too much, would weaken the economy, and would undermine social cohesion. (Reuters). There is no doubt that those arguments are sound, but they are the wrong reasons to reject the plan.
To explain why that is so, let us assume for the moment that a guaranteed income would have none of those damaging effects. Let us imagine that it would cost nothing, because it would stimulate the economy and, thereby, produce new tax revenue to cover the subsidy, and that it would strengthen social cohesion. Then what?
If we understand the principles that are the foundation of liberty, and if we place a higher value on freedom than on "affordability", "economy", or "social cohesion", then we must reject any plan that is based on the coercive redistribution of wealth even if it is said to produce desirable effects.
The rationale for this is simple. A just state derives its powers from the people it serves. It cannot have any authority that it does not receive from its citizens. Citizens do not have the right to forcibly take money or other forms of property from one person to give it to another no matter worthy the cause. Therefore, they cannot delegate that power to their elected representatives. You cannot give that which you do not have. Therefore, the state does not have the right to redistribute wealth, no matter how popular the cause.
If this is a new concept to you, I urge you to take a look at my video presentation entitled "Freedom in One Lesson", which is on the Reality Zone's new YouTube channel.
If you wish to have your own personal copy, it is available here.
Even though the Swiss were swayed by the wrong reasons, I salute them for their independence and their strength of character to turn down a free lunch.
G. Edward Griffin