Lila Rajiva wrote on her blog today:
Rioting Around The Country Or Twittering?

Who is sending out this stuff on Twitter about crowds and rioting everywhere? Are there riots in Miami? Really? I'm hearing from other people that it's all phony. What's going on?
A couple hours later, she added:
At least one of the reports/video clips about rioting, allegedly in Miami, which in my last post I suggested was phony, have been confirmed to be fake… According to Canada.com, the video clip is actually not in Miami, but Vancouver, Canada and was shot in 2011.
This reminded me an already old interview with Peter Levenda, published in 2009 in The Dot Connector Magazine where he, well in advance, explained what we are experiencing today and are certainly going to keep on experiencing in the future. Below is the fragment of that interview taken by Kerry Cassidy and Bill Ryan.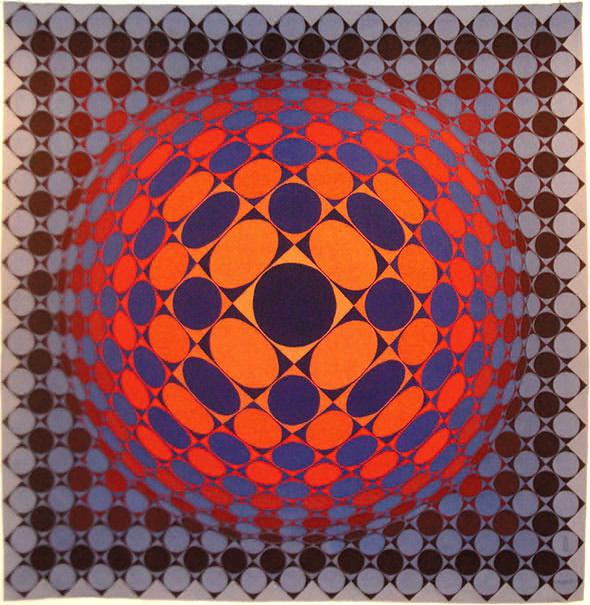 What is real, what is not? This carpet by Victor Vasarely (1906-1997), exposed in his native town of Pécs, Hungary, is flat.
Peter Levenda: The political situation, the way I look at it these days, is basically theater. We are watching a play being acted out in front of us, and we're all willing or unwilling audience members in this play. I think we have to not believe a lot of what we see as being "real." It's a kind of consensus reality. We all kind of agree that certain things are real and certain things are not.
And I always like to talk about the root of the word "reality ," because the word comes from a very interesting Indo-European root which also gives us "royal." It gives us what is real and what is royal. And basically what that means is, to me: "Whatever the king says is real is real."
In other words, there's a kind of agreement that we all enter into, a kind of contract where we agree that certain things are, and certain things are not, real. And I think we've come to the point where we have to revisit what we call real. We have to revisit reality to a certain extent. We have to come up with a new paradigm, a new way of looking at reality, because it's not working for us, the old way of looking at it. We're too easily manipulated. Our country has made a science of the manipulation of reality since at least the Korean War, if not before.
Communication science, which is being taught in the universities all across the country, came into being as a result of World War Two and psychological warfare studies. I mean, the same guys who created psychological warfare for use during the war were the guys who in the private sector developed programs for teaching advertising, marketing, and communication.
So we are really struggling with psychological warfare being directed against by manipulating our reality.
Kerry Cassidy: … A form of propaganda and mind control in and of itself, just as television becomes in a sense a mind control tool.
Peter Levenda: On a massive, massive scale. I used to live, as I mentioned, in Asia, and we would get CNN out there. I don't want to single out CNN particularly for opprobrium, but they are sort of an international news organization that you can pick up on cable channels all over the world.
There was one particular instance where I'm in Kuala Lumpur and there was a riot going on on CNN, on television, in a restaurant. It was being carried live. And we're looking at the television screen, and we're at the site where this riot is supposed to be taking place. And there's no riot there! We're watching and we're all looking at each other. We're watching the screen and we're saying: "What is this?"
It turns out there were three or four people in a corner somewhere and a camera was on them. And the way it looked, it looked as if there were all of these really angry people rioting.
I was getting a phone call from friends of mine saying: "Go away! Get out! There's a riot taking place. We can see it on television." And we're all sitting in the restaurant saying: "Well, where's the riot?"
You know, there was no riot. I mean, it was manufactured news, essentially. And if that happened that one time, how many other times has this happened? How much of our news is being manipulated or controlled or created, you know, as we watch it?
---