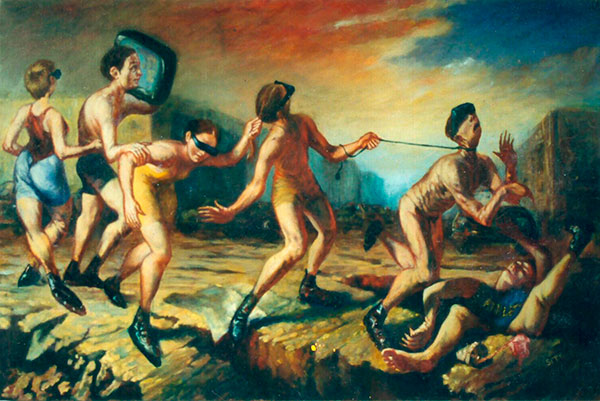 He's as blind as he can be,
Just sees what he wants to see,
Nowhere Man can you see me at all?
— The Beatles, 'Nowhere Man.'
A few weeks ago I wrote about an experience I had in September when I witnessed a sighting of odd lights over the Atlantic Ocean and not one person with me cared. They would not even look. The experience haunted me as extremely odd. I wrote about it and tried to forget it.
October rolled around and I returned to walking on the boardwalks that line the coast close to where I live. I always bring my binoculars to look out over the ocean and the great open sky.
I finished my walk and was sitting on a bench overlooking the beach. I noticed the sky filling with chemtrails. I was very interested in this as they once dominated our skies here but recently seemed to stop. We were enjoying a period of normal blue skies with normal clouds for some time now. This day however I was very interested to find the chemtrails were back.
I sat and watched as small white squat like plane type crafts with small little wings kicked out huge long trails that feathered out into sky covering clouds. As they did in the past the crafts filled the sky so that the entire blue sky looked like a rug covered with pick up sticks. It is an incredible sight — an abnormal sight.
I was waiting for my son to join me at the beach as we planned to have hot chocolate and hot dogs at the boardwalk food bar. We did this often on beautiful days. It is a way to enjoy the day and catch up with each other.
I saw my son coming towards me on the boardwalk. I stood up and waved at him from where I was sitting on the bench and pointed up to the sky over the ocean. My son immediately stopped walking and looked up. At once he saw the display of crafts and trails and stood still looking straight up to take it all in.
I watched him standing there looking up while dozens of people walked by. I found it fascinating that all of them walked past this man standing in the middle of the boardwalk looking straight up into the air and not one person was curious enough to glance up to see what he was looking at. Memories of my friends ignoring the UFO sighting came to mind.
I decided to test how much they would ignore before glancing at what we were looking at. I stepped out into the middle of the boardwalk and started pointing up to the sky in large hand movements. I yelled out loud and clear, "Check that out — look at those chemtrails, can you believe it?" I kept pointing to the sky and commenting loudly about the crafts and designs and speed at which they were polluting the entire sky. I yelled out once towards my son "Did you see that? A plane cannot do that!" I then stood in the middle of the Boardwalk pointing out over the ocean up to the sky where the large display of chemtrails was spreading.
My son walked up to me continuing to watch the sky. When he reached me he said, "Wow, they are going wild up there today." I looked at him and gestured to the groups of people walking by, "Tell me why none of them seem to notice?" He looked at the people passing by us and watched as they all went about their business. "Hmmm," my son hissed as he watched the people all look everywhere but up. We stood there a moment looking at the wild lines being drawn across the sky and the boardwalk full of people ignoring them.
My son then walked into the flow of the people walking by and yelled out, "Have any of you people looked up in the sky today? Can any of you tell us what those lines are up there?" The people looked away from my son; walked to the other side of the boardwalk, and picked up their pace away from the both of us. They did everything but look up!
It was so ridiculous we both burst out laughing. I imagine a dragon could land on the beach, blast fire onto the drift wood laying about while leaving a 400-pound egg it had lain on the sand and that would go unnoticed as well!
I was convinced that something was very wrong with the public. They were without question numb to their surroundings. It is as if they have been trained to live in a tunnel vision world. The only thing they seem to be able to focus on or even recognize is what is directly in front of them. Their natural surrounding seems to be lost to a very narrow view of the world. They all seemed to be closed and cut off from what is going on right in front of them. I found it odd to say the least that not one person glanced to where we were pointing. Have we been trained to walk along blinded to what is going on right in front of our faces?
I knew that whenever I brought up chemtrails in the past to other people that they usually agreed on one fact. That fact is that they never looked at or took notice of what was going on in the sky. I wonder when we all stopped looking up and why?
I told this story to my brother. He also has been watching the chemtrails for about the last year. He also is aware that no one ever knows what he is talking about when he mentions them in conversation. My brother listened to our experience on the boardwalk and agreed it was very odd.
The next day my brother went to Home Depot to buy a few items for a home project he was working on. He was pushing his cart full of assorted merchandise he purchased back to his car when he noticed a large formation of chem trail lines right over the Home Depot parking lot. He stopped and stood looking up with his hands on his hips. He watched the other people walking by and noticed not one looked to see what he was looking at. My brother then started to greet the people as they walked by him by saying, "How are you today? Just looking at those things in the sky. What do you think they are?" To my brothers amazement the people would maybe smile, but not one of them looked up. They just kept walking. Finally an older couple walked towards him and my brother repeated his greeting. They stopped and did look up. My brother pressed on, "So what do you think those things are?" he asked them. The old man looked for a few seconds and said "I don't know what that is, but if it was anything somebody would do something." He then simply walked off, back to his own small reality.
When my brother returned home he called and told me his story.
We talked about it and cannot figure out exactly what is going on out there. We do know it is not natural to have no curiosity at all about your world or your surroundings. The lines and designs seen in our skies now did not exist a few years ago. They stopped for a few months but once again they are back. If they were from normal air traffic we would see them all the time and would have for many years. They are odd, they are made from crafts that make impossible maneuvers and they are over our heads. How is it the public is not interested in them at all?
Something isn't right here. Somewhere something happened to us and we act more like hypnotized cattle then curious human beings. I am beginning to worry that something much more is at play here. It cannot only be due to the fact we have busy lives. I think somehow some way we have been made numb.
I hope all of you who are reading this start to pay attention to what is going on around you, near you and over you. I also hope that if you notice the same complacent actions by those around you please try to snap them out of it. We cannot walk past the forest for the trees. We cannot ignore the UFO for the fear, and we should not ignore the trails being spread across our skies because we are busy!
I will continue to try to point up and write about what I see. And for sure I will always keep looking up!
---