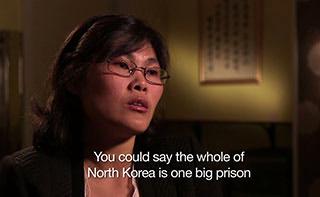 Much has been made over the past week of Sony bowing to the pressure applied by alleged North Korean hackers. The studio has pulled The Interview from theaters and seemingly given in to the demands of the cyber terrorists. Whether or not this story is real is another issue. Some believe it is just another conveniently placed propaganda piece, resulting from an inside job, which will be used to distract Americans from other developing stories, or possibly to advance some hidden agenda.
It wouldn't be the first time.
Regardless of whether we ever see the Sony production, there is another lesser known film set to be released soon. The film was produced by Amnesty International and will begin making the rounds on YouTube next month.
Kate Allen, UK director of Amnesty International, recently stated,
"In reality, many people in North Korea are subjected to an existence beyond nightmares.

The population is ruled by fear with a network of prison camps a constant spectre for those who dare step out of line.

Thousands of people in the camps are worked to death, starved to death, beaten to death. Some are sent there just for knowing someone who has fallen out of favour.

Amnesty is releasing 'The Other Interview' so that people all over the world can hear first-hand how people in North Korea are suffering appallingly at the hands of Kim Jong-un and his officials.

They don't want you to see it, which is precisely why you should."
Rumors of the killing of thousands of prison camp detainees, the slaughter of Christians, and even public executions of Kim Jong-Un's own family members (note: his uncle was not fed to dogs) paint a very grim picture of life in North Korea. But this is such a closed society that it is difficult to separate fact from fiction. Hopefully, regardless of any agendas in play, this film will expose the truth of what really goes on in North Korea.
Here is the trailer:
According to Amnesty International's YouTube description, the finished film will be released in January:
In January 2015 Amnesty will be releasing the film North Korea doesn't want you to see. The incredible true story of one woman's escape from North Korea.
It remains to be seen if "North Korean hackers" will target Amnesty International.
Don't forget to follow the D.C. Clothesline on Facebook and Twitter. PLEASE help spread the word by sharing our articles on your favorite social networks.