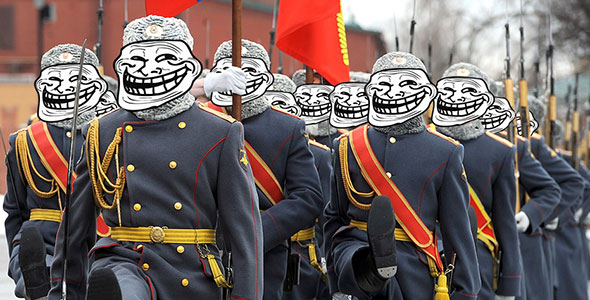 DARPA
Disturbingly, Facebook founder Mark Zuckerberg recently recommended World Order by Trump's mentor and architect of Russian collusion, Henry Kissinger:
[It's] about foreign relations and how we can build peaceful relationships throughout the world. This is important for creating the world we all want for our children, and that's what I'm thinking about these days.[1]
According to Newton Lee, author of Facebook Nation, social media like Facebook, Google+, Twitter and YouTube are leading the way towards Total Information Awareness (TIA), the aim of the Information Awareness Office (IAO) established in 2002 by DARPA, to bring together several DARPA projects focused on applying surveillance and information technology to track and monitor terrorists and other asymmetric threats to U.S. national security. DARPA was responsible for the development of ARPANET, the origin of the Internet. The goal was to integrate components from previous and brand new government intelligence and surveillance programs with data mining knowledge gleamed from the private sector to create a resource for the intelligence, counterintelligence, and law enforcement communities.[2] According to Lee, "Facial recognition, location tracking, ambient social apps on GPS-enabled devices, Google Street View, digital footprints, and data mining are some key elements in information awareness."[3]
The IAO was headed by Admiral John Poindexter, former United States National Security Advisor to President Ronald Reagan. Poindexter was convicted in April 1990 of multiple felonies as a result of his actions in the Iran–Contra affair, but his convictions were reversed on appeal in 1991. According to David Teacher, besides the channels to Reagan via CIA director William Casey, Le Cercle and Brian Crozier's 6I also liaised directly with Reagan's successive National Security Advisors, Dick Allen, William P. Clark, Bud McFarlane and Poindexter.[4] Le Cercle has been described as "an international right-wing propaganda group which brings together serving or retired intelligence officers and politicians with links to right-wing intelligence factions from most of the countries in Europe."[5]
Le Cercle had a wide range of contacts with right-wing intelligence and propaganda agencies, including the Bilderberg Group, P2, Opus Dei and the Knights of Malta. Amongst Cercle intelligence contacts were former operatives from the CIA, Britain's MI5, MI6 and IRD, France's SDECE and Germany's BND.[6] Leaked documents suggest that Le Cercle's activities include political subversion, false-flag Gladio-style terrorism, assassination and arms dealing. Le Cercle has even been blamed for the death of Lady Diana, whose anti-landmine campaign would have interfered with their defence contracts.[7]
Eerily, the IAO's seal employed the pyramid and all-seeing eye of the reverse side of the dollar bill casting its vision over the globe. Following public criticism that this technology could potentially lead to a mass surveillance system, the IAO was defunded by Congress in 2003. Annie Jacobsen, author of The Pentagon's Brain: An Uncensored History of DARPA, believes the downfall of the program was largely attributable to the backlash against the logo.[8] However, several IAO projects continued to be funded and merely run under different names, as revealed by Edward Snowden during the course of the 2013 mass surveillance disclosures.
Although the program was formally suspended, its data mining software was later adopted by other government agencies, with only superficial changes being made. According to a 2012 New York Times article, the legacy of Total Information Awareness is "quietly thriving" at the National Security Agency (NSA).[9] Companies that were contracted to work on TIA included the Science Applications International, Booz Allen Hamilton, Lockheed Martin, Schafer Corporation, SRS Technologies, Adroit Systems, CACI Dynamic Systems, ASI Systems International, and Syntek Technologies.[10]
Palantir
DARPA is connected to CIA-backed Palantir Technologies, created by Peter Thiel, the founder of PayPal, and now a big supporter of Donald Trump. Headquartered in Palo Alto, Palantir specializes in big data analysis for the intelligence community, and supposedly helped to locate Osama bin Laden.[11] Thiel named the company after the crystal ball used by evil lord Sauron in The Lord of the Rings. Thiel saw Palantir as a "mission-oriented company" which could apply software similar to PayPal's fraud recognition systems to "reduce terrorism while preserving civil liberties."[12] Seed funding was provided by the CIA's venture capital arm In-Q-Tel—in reference to Q, the fictional inventor who supplies technology to James Bond—and Thiel's own venture capital firm, Founders Fund.
A document leaked to TechCrunch revealed that Palantir's clients included at least twelve groups within the U.S. government, including the CIA, DHS, NSA, FBI, CDC, the Marine Corps, the Air Force and Special Operations Command.[13] Although the company denies the connection, the majority of security analysts are convinced that Palantir is the principal company behind the design of software used for the NSA's PRISM program.[14] Its existence was revealed when The Washington Post and The Guardian published leaked documents by Edward Snowden, which exposed the involvement of Microsoft, Yahoo!, Google, Facebook, Paltalk, YouTube, AOL, Skype and Apple. A source told the Post that with PRISM, the NSA can "quite literally can watch your ideas form as you type."[15]
Founders Fund was the first institutional investor in SpaceX, and one of the earliest investors in Facebook. Facebook's second round of funding came from venture capital firm Accel Partners. Its manager James Breyer was formerly chairman of the National Venture Capital Association, and served on the board with Gilman Louie, CEO of In-Q-Tel. One of the Accel Partners's key areas of expertise are in "data mining technologies." Breyer and Louie also served on the board of R&D firm BBN Technologies, which was one of those companies responsible for the rise of the internet. In-Q-Tel's board member Dr. Anita Jones also joined the firm. She had also served on the In-Q-Tel's board, and had been director of Defence Research and Engineering for the US Department of Defence. She was also an adviser to the Secretary of Defence and overseeing the DARPA.[16]
Big Data
As Carole Cadwalladr reported in The Guardian, Palantir is also connected to CNP members Robert Mercer and Steve Bannon's Cambridge Analytica (CA), a company which combines data mining and data analysis with strategic communication for the electoral process.[17] Mercer also played a key role in the elevation of Bannon and fellow CNP member Kellyanne Conway—who previously had worked for the Mercers running the Cruz super PAC—into senior roles in the Trump campaign.[18] Documents detail Cambridge Analytica is involved with many other right-leaning billionaires, including Rupert Murdoch.[19]
CA was created in 2013 as an offshoot of its British parent-company SCL Group to participate in American politics. SCL (Strategic Communication Laboratories) Group is a private British behavioral research and strategic communication company that performs data mining and data analysis on its audience. A former SCL intern referred to their work a "psychological warfare":
Totally. That's what it is. Psyops. Psychological operations – the same methods the military use to effect mass sentiment change. It's what they mean by winning 'hearts and minds'. We were just doing it to win elections in the kind of developing countries that don't have many rules.[20]
SCL Group calls itself a "global election management agency" known for involvement "in military disinformation campaigns to social media branding and voter targeting."[21] SCL's involvement in the political world has been primarily in the developing world where it has been used by the military and politicians to study and manipulate public opinion. SCL claims to have been successful to help foment coups.[22] According to Emma Briant in Propaganda and Counter-Terrorism: Strategies for Global Change, SCL has specialized changing the behavior of large groups for NATO, the US state department and others. Some of the SCL offshoots have been involved in elections from Ukraine to Nigeria, helped the Nepalese monarch against the rebels, whereas others have developed methods to influence Eastern European and Afghan citizens for NATO.[23]
Cambridge Analytica was heavily involved in manipulating the Brexit vote and exploiting Russian trolls.[24]Time, in a May 18 report titled "Inside Russia's Social Media War on America," reported that "congressional investigations are probing not just Russia's role" in the 2016 election, "but whether Moscow had help from the Trump campaign." The investigators, according to Time, are focusing on "two Trump-linked organizations," Cambridge Analytica and Breitbart. Investigators are looking at ties between those companies and right-wing web personalities based in Eastern Europe who the US believes are Russian fronts.
Also making use of CA was Brad Parscale, the digital director of President Donald Trump's campaign, who was also under scrutiny by House Russia investigators for possible collusion with the Russians, a charge he denies. Parscale played a critical role behind the scenes on the Trump campaign, directing online spending and voter targeting with the use of a highly sophisticated data bank built by the Republican National Committee. Parscale says he was focused on competing with the Clinton campaign's huge advantage in money and TV ads.
What Parscale decided to do was turn to social media, most importantly to Facebook. According to Parscale, "Twitter is not where Trump voters were. Over 95% (of the campaign's online budget) went to Facebook."[25] Parscale went so far as to hire pro-Trump employees from Facebook who were "embedded" in Parscale's headquarters, working on location multiple days a week, to teach his staff how to achieve maximum use of the platform.[26]
Russian Trolls
CA is also connected to a British property tycoon, Vincent Tchenguiz, and through him with the pro-Russian Ukrainian billionaire Dmitry Firtash, a business associate of Trump's campaign manager, Paul Manafort.[27] Firtash made his billions as Putin's handpicked surrogate.[28] By his own admission, Firtash maintains strong ties with Ukrainian/Russian mob boss Semion Mogilevich.[29] Mogilevich, believed to be the "boss of bosses" of most Russian Mafia syndicates in the world, has allegedly had a "good relationship" with Vladimir Putin since the 1990s.[30]
Security experts said the Russian mafia hacking rings are often run by former KGB agents who recruit young hackers who answer Internet ads for computer programmers, planted by organized crime outfits in Moscow, St. Petersburg and Murmansk.[31] According to a new study published by the European Council on Foreign Relations (ECFR), there is a close connection between the Kremlin's Foreign Intelligence Service, military intelligence (GRU), and the Federal Security Service (FSB) and Russian organized criminal groups active in European countries.[32]
According to a report by the FBI and US intelligence agencies, Russia is home to the most skilled community of cybercriminals on the globe, and the Kremlin has close ties to them.[33] Spearheading the organized hacking rings is the Russian mafia, security experts say.[34]
While Zuckerberg first denied allegations that Russians exploited his platform as "crazy," Facebook finally admitted in September 2017 that an internal investigation uncovered 470 fraudulent Facebook accounts and pages linked to a Russian "troll farm" that bought 3,300 Facebook ads costing around $100,000 during the recent American presidential election. Facebook found another 2,200 ads, costing $50,000, that appear to have originated in the US, but with the user language set to Russian. These ads reached between 23 million and 70 million Facebook users, according to one report, and wasn't discovered until more than a year after the first ads were placed. Although the ads did not openly support one candidate or the other, they "appeared to focus on amplifying divisive social and political messages across the ideological spectrum," according to Facebook.[35]
Facebook also confirmed that Russian operatives used false identities to post events on its platform to remotely organize and promote political protests in the US, including an August 2016 anti-immigrant, anti-Muslim rally in Twin Falls, Idaho, which had been criticized by Breitbart, InfoWars, and WorldNetDaily for its open-door policy towards refugees.[36] The event was "hosted" by SecuredBorders, a purported American anti-immigration group that was exposed in March 2017 as a Russian front. Their Facebook page had 133,000 followers when Facebook shut it down in August.
When Chobani's planned to hire immigrants to work at the Twin Falls plant, WorldNetDaily responded with a January 2016 piece once titled "American Yogurt Tycoon Vows to Choke U.S. With Muslims." In the month before the even, Breitbart posted 37 articles about immigrants in Twin Falls, including a false story about a rape attack. When an InfoWars article claimed that Chobani's workers were responsible for a "500 percent increase in tuberculosis in Twin Falls," the company sued InfoWars who were forced to issue a retraction.
Among these accounts was a social media campaign calling itself "Blacktivist" which used both Facebook and Twitter in an apparent attempt to amplify racial tensions. The "Blacktivist" Facebook account had 360,000 likes, more than the verified Black Lives Matter account on Facebook, which in September 20017 had just over 301,000. The page also publicized at least seven rallies and demonstrations around the country in 2016. The matching Twitter account was among the roughly 200 accounts Twitter identified with links to those found by Facebook.[37]
The organization that spent all that money and placed all those ads is formerly known as the Internet Research Agency, based in Saint Petersburg, known popularly as "Trolls from Olgino." The agency has been widely reported in Russian media to be the brainchild of Evgeny Prigozhin, an oligarch and ally of Vladimir Putin.[38]
---
footnotes
[1] Richard Feloni. "Why Mark Zuckerberg wants everyone to read Henry Kissinger's book about world order." Business Insider (December 10, 2015).
[2] John Poindexter. "Overview of the Information Awareness Office." fas.org. Federation of American Scientists. (2 August 2002).
[3] Newton Lee. Facebook Nation: Total Information Awareness (New York: Springer, 2013), p. 6.
[4] David Teacher. Rogue Agents: The Cercle Pinay complex 1951-1991 (2015), p. 193.
[5] David Teacher, "The Pinay Circle and Destabilisation in Europe," Lobster. (October 18, 1989).
[6] David Teacher. Rogue Agents: The Cercle Pinay complex 1951-1991 (2015).
[7] Jon E. Lewis. The Mammoth Book of Cover-Ups. (London: Little, Brown Book Group, 2008).
[8] Matt Kessler. "The Logo That Took Down a DARPA Surveillance Project." The Atlantic (December 22, 2015).
[9] Shane Harris. "Giving In to the Surveillance State." The New York Times. (August 22, 2012).
[10] Adam Mayle & Alex Knott. "Outsourcing Big Brother: Office of Total Information Awareness relies on private sector to track Americans." www.publicintegrity.org. Center for Public Integrity. (December 17, 2002).
[11] Carole Cadwalladr. "Peter Thiel: 'We attribute too much to luck. Luck is an atheistic word for God'". The Observer (September 21, 2014). p. 8.
[12] Andy Greenberg & Ryan Mac. "How A 'Deviant' Philosopher Built Palantir, A CIA-Funded Data-Mining Juggernaut." Forbes (August 14, 2013).
[13] Matt Burns. "Leaked Palantir Doc Reveals Uses, Specific Functions And Key Clients." TechCrunch (January 11, 2015).
[14] Pierluigi Paganini. "Palantir Technologies is considered the principal company behind the design of software used for PRISM program, think of it as the work of a single company is truly an understatement." Security Affairs (June 17, 2013).
[15] Nicholas Carlson. "PRISM Is Also The Name Of A Product From Palantir, A $5 Billion Tech Startup Funded By The CIA." Business Insider (June 7, 2013).
[16] Matt Greenop. "Facebook – the CIA conspiracy." The New Zealand Herald (August 8, 2007).
[17] Carole Cadwalladr. "The great British Brexit robbery: how our democracy was hijacked." The Guardian (May 7, 2017).
[18] Jonathan Swan. "Billionaire father and daughter linked to Trump shake-up." The Hill (August 17, 2016).
[19] Carole Cadwalladr. "The great British Brexit robbery: how our democracy was hijacked." The Guardian (May 7, 2017).
[20] Ibid.
[21] Kenneth Vogel. "Cruz partners with donor's 'psychographic' firm." Politico (July 7, 2015).
[22] Ibid.
[23] Hannes Grassegger and Michael Krogerus. "The Data That Turned the World Upside Down." Motherboard (January 28, 2017); translation of Das Magazine article (December 2017).
[24] Massimo Calabrese. "Inside Russia's Social Media War on America." Time (May 18, 2017).
[25] Tom LoBianco. "First on CNN: House Russia investigators want to bring in Trump digital director." CNN (June 16, 2017).
[26] Lesley Stahl. "Facebook "embeds," Russia and the Trump campaign's secret weapon." CBS News (October 8, 2017).
[27] Ann Marlowe. "Will Donald Trump's Data-Analytics Company Allow Russia to Access Research on U.S. Citizens?" Tablet (August 22, 2016).
[28] Robert Kolker. "Will Trump Rescue the Oligarch in the Gilded Cage?" Bloomberg (February 15, 2017).
[29] James S. Henry. "The Curious World of Donald Trump's Private Russian Connections." The American Interest. Volume 12, Number 4 (December 19, 2016).
[30] Lyndsey Telford, Edward Malnick and Claire Newell. "Listen: Alexander Litvinenko's apparent warning before his death." Telegraph (January 23, 2015)
[31] Laura Lorek. "Russian mafia's Net threat." ZDNet (July 17, 2001).
[32] Irina Filatova. "Russian mafia groups reportedly operate in Europe on behalf of the Kremlin." DW.com (April 27, 2017).
[33] Brian Whitmore. "Putin's Mafia Statecraft." The Power Vertical (October 27, 2015).
[34] Laura Lorek. "Russian mafia's Net threat." ZDNet (July 17, 2001).
[35] Mike Elgan. "Disinformation as a service? DaaS not good!" Computer World (September 9, 2017).
[36] Ben Collins, Kevin Poulsen & Spencer Ackerman. "Exclusive: Russia Used Facebook Events to Organize Anti-Immigrant Rallies on U.S. Soil." The Daily Beast (September 11, 2017).
[37] Done O'Sullivan & Dylan Byers. "Exclusive: Fake black activist accounts linked to Russian government." CNN (September 28, 2017).
[38] Adrian Chen. "The Real Paranoia-Inducing Purpose of Russian Hacks." The New Yorker (27 July 2016).