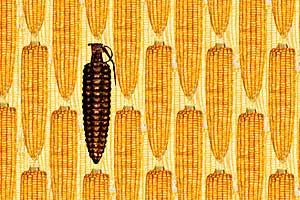 GMOs, or genetically modified organisms, are becoming a lot more prevalent in North American food and due to the lack of GMO labeling, consumers have difficulty avoiding foods that contain genetically modified ingredients.
Unfortunately, an estimated 70% of the food in North American stores contain bio-engineered elements and that number is only expected to increase as more Frankenfoods are introduced into the North American food system each year.
Avoid non-organic soy, canola and corn
Pesticide Action Network North America reports that the USA is the world's largest producer of genetically engineered crops. Currently, an estimated 90% of all soybeans grown in America are Monsanto's Roundup Ready Soy Beans explains The World According to Monsanto. More than 61% of corn, 75% of canola and 50% of Hawaiian Papaya are genetically modified. If the food isn't organic, then there is no guarantee that it isn't genetically modified.
Go organic and unprocessed
If you are going to consume non-organic fake soy-based meats, processed cakes, cookies, salad dressing, tofu, etc. — you are going to end up consuming GMOs. Canada is also one of the largest producers of GE crops in the world and, across the country, up to 70% of processed foods found in grocery stores contain or may contain GE ingredients, reports Greenpeace Canada and this estimate is the same for American foods. Genetically modified foods remain unlabeled in North America despite organizations and individuals agitating for clear labeling.
The only way to ensure you are not ingesting genetically modified ingredients is to avoid the most common GMOs or consume organic food. However, as Seeds of Deception author Jeffrey M. Smith explains, "Unless buyers ask for it, many organic food producers do not test for GMOs."
Read your labels
It is not enough to cut out non-organic corn, soy and canola from your diet as many foods contain derivatives of these items as product ingredients. True Food Now Network suggests checking labels for foods that contain corn oil, corn syrup, high fructose corn syrup, corn starch, corn meal, soy protein, soy lecithin, soy oil, soy sauce, soy isolates and canola oil. Jeffery Smith explains that other possible sources of GMOs include food additives, enzymes, flavourings, and processing agents, including the sweetener aspartame (NutraSweet®), and rennet, which used to make hard cheeses.
Better consider vegetarianism
Eliminating non-organic foodstuffs may also soon not be enough to avoid ingesting genetically modified organisms. The US Food and Drug Administration (FDA) just moved a step closer to allowing biotech companies the right to create genetically engineered animals that will be used to produce medicine, organs for transplant, meat, genetically engineered pets; and for use as animal experiment subjects.
The FDA, and at the exact same time as the height of the American election fervor, accepted public input on their document Draft Guidance for Industry: Regulation of genetically engineered animals containing heritable rDNA constructs. Needless to say, with the American elections dominating the headlines, very little media coverage was devoted to garnering public input.
Finally, even if you choose to avoid genetically modified meat, many animals are already being fed corn and soy crops that contain genetically modified ingredients. Going vegetarian may be one of the best ways to help avoid GMOs in your diet.
Got rBHG?
The controversial Bovine Growth Hormone (rBHG), a transgenic hormone injected into cows to increase milk yield, may be found in non-organic milk products including milk, cheeses and yoghurts. Both Canada and the European Union has disallowed the use of rBHG.
The True Food Now Network reports that, "In cows treated with rBGH, significant health problems often develop, including a 50% increase in the risk of lameness (leg and hoof problems), over a 25% increase in the frequency of udder infections (mastitis), and serious animal reproductive problems, i.e., infertility, cystic ovaries, fetal loss and birth defects".
The Institute For Responsible Technology explains, "Milk from rBGH-treated cows has much higher levels of IGF-1, a hormone considered to be a high risk factor for breast, prostate, colon, lung, and other cancers. IGF-1 levels in milk from treated cows with rBGH can be up to 10 times higher".
Get informed
Find out who the main players are in the genetically modified food world — it's an increasingly short list. Monsanto currently owns more than 91% of the genetically modified food market, according to GMO expert and author of Seeds of Deception Jeffery M. Smith. We recommend watching , directed by French filmmaker Marie-Monique Robin, The Future of Food directed by Deborah Koons Garcia and reading the best-selling book Seeds of Deception by Jeffrey M. Smith to learn more about genetically modified foods in North America.
Helpful supermarket guides
Greenpeace Canada publishes a GMO Shopping Guide that can be downloaded in PDF form. The True Food Now Network also offers a downloadable PDF pocket guide to GMOs to avoid at the supermarket. Seeds of Deception publishes a GM Foods at a Glance guide that is very comprehensive.
---