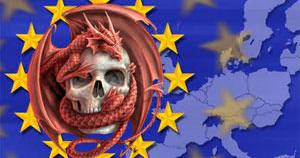 No one pays more to the EU than a citizen of Flanders, the Dutch-speaking northern half of Belgium. A Fleming pays twice as much as a Walloon, triple as much as a Briton and five times more than a Frenchman.
It was already known that, from the 27 EU-member states, 15 are net recipients and 12 are net contributors. Belgium is a large net contributor. The Vlaams Belang group in the European Parliament, led by Frank Vanhecke, has now calculated how much each citizen of Flanders and Wallonia pays each year. The result is surprising: with €1,780 million net, not a single EU-country pays more per head than Flanders: each Fleming pays €282 net per year.
This is more than the €272 each Dutchman pays per year. This is almost twice as much as a citizen of Wallonia, the French-speaking southern half of Belgium pays (€164). It is also double the amount of a German's contribution (€114) and almost triple as much as that of a Briton. It is even five times more than the €53 a Frenchman pays and the €49 an Italian contributes.
The 2007 'hit parade' of the largest EU-contributors looks like this:
1. Flanders: €1,780 million divided by 6.3 million inhabitants = €282.6/Fleming
2. The Netherlands: €4,464.1 million divided by 16.4 million inhabitants = €272/Dutchman
3. Luxemburg: €117 million divided by 476.187 million inhabitants = €245.7/Luxemburger
4. Wallonia: €690.5 million divided by 4.2 million inhabitants = €164.5/Walloon
5. Denmark: €817.4 million divided by 5.4 million inhabitants = €151.3/Dane
6. Sweden: €1,280.2 million divided by 9.1 million inhabitants = €140.6/Swede
7. Germany: €9,393.6 million divided by 82.3 million inhabitants = €114.1/German
8. Great Britain: €6,156.6 million divided by 60.8 million inhabitants = €101.2/Briton
9. Austria: €639.7 million divided by 8.2 million inhabitants = €78/Austrian
10. Cyprus: €49.2 million divided by 778.684 inhabitants = €62/Cypriot
11. France: €3362.3 million divided by 63.3 million inhabitants = €53.1/Frenchman
12. Italy: €2,938.3 million divided by 59.1 million inhabitants = €49.7/Italian
13. Finland: €229.1 million divided by 5.2 million inhabitants = €44/Finn
Donate and Make a Difference
War Is Crime is an independent non-commercial website. It is not addressed to "the masses" but to the individuals, to you personally. Please consider sending a donation to help us keep it running. Your generous support makes the world a better place!
---