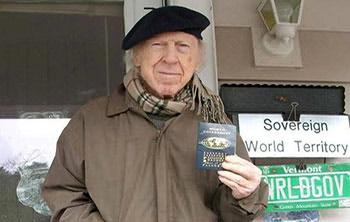 Garry Davis, called "World Citizen #1" and founder of WorldService.org and provider of the "World Passport", died a few days ago. Newser reports that the former American citizen died after decades as a stateless "citizen of the world." Davis was 91 when he died and had spent 65 years stateless since renouncing his nationality along with all others since 1948.
The timing is interesting for me personally as I had just met with the current operators of the World Service last week in Vancouver and discussed getting a World Passport with them. Doug Casey was also there and he noted that he has had a World Passport since the 70s and knew Davis personally.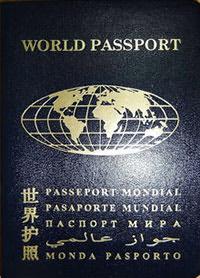 The World Passport is an interesting concept. It is distributed by the World Government of World Citizens, a self-proclaimed international governmental body that has issued documents – passports, identity cards, birth and marriage certificates – and occasional postage stamps and currency. Davis periodically ran for president of the world, always unopposed.
Last year, he had a world passport delivered to Julian Assange, the founder of WikiLeaks, who has been holed up in the Ecuadorean embassy in London. And, just weeks before he died, Davis had a world passport sent, via Russian authorities, to Edward Snowden, a hero and freedom fighter who has been holed up in Moscow since his US passport was revoked in June.
Does The World Passport Work For Travel?
The mandate for the World Passport, according to their website, is Article 13(2) of the Universal Declaration of Human Rights: "Everyone has the right to leave any country, including his own, and to return to his country."
But does it work?
Again, according to their website:
"A passport gains credibility only by its acceptance by authorities other than the issuing agent. The World Passport in this respect has a track record of over 50 years acceptance since it was first issued. Today over 150 countries have visaed it on a case-by-case basis"
There are plenty of examples of people using the document for travel successfully over the decades… and there are also lots of examples of people being arrested or imprisoned for doing the same. In this post 9/11 world, our advice would be to only use it as a last resort if for any reason you must travel and cannot get another passport in time.
But, for $100, it is worth at least having it as a worst case scenario back-up plan… but you will always be taking a risk in trying to use it.
But He Missed The Point
Philosophically speaking, however, Garry Davis might have claimed statelessness, but he entirely missed the point about the state itself.
Davis had been arrested several times after his renunciation as he tried to cross those gangster border lines with his self-issued "World Passport". But Davis didn't want the government itself to go away. He just felt the world would be much better with one single government, one pan-national State to rule all the nations and make all the borders porous.
"We, the people, want the peace which only a world government can give," he declared after storming a United Nations General Assembly session in 1948. "The sovereign states you represent divide us and lead us to the abyss of total war."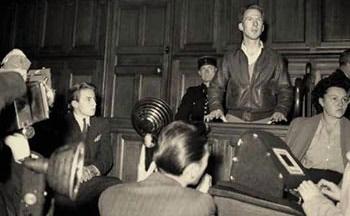 Davis lost a brother in WWII…and Davis himself dropped bombs on German civilians from the B-17 bomber the US armed forces gave him to pilot. So he knew very intimately the horrors of war. But he only got the solution partly right.
We agree that nation-state borders should be erased…but only as a consequence of erasing the very abomination of the coercive state itself. We are looking for a voluntary world with an actual free market and that's just not compatible with the State. Melding the current patchwork of nation-states into one global supranational state would bring about the kind of peace that comes from having all the gangsters in a city work together to collect protection money instead of fighting each other.
You see, while borders and passports artificially restrict human movement under the dictates of the large criminal gangs that run geographic regions (national governments), a worldwide state is infinitely more troublesome. And just like the Soviet Union showed the world in the early 20th century, a very large state can just set up internal travel restrictions and do a wonderful job of murdering as many of its own citizens as international war can.
That aside, we support anyone trying to do anything to go against the dictates of the state and for this we mourn the loss of a pioneer today.
We Don't Need One Superstate, We Need 7 Billion Microstates
Of course, you know our views here are that collectivism and statism is an unneccessary evil and we wish instead of having one giant government the world had 7 billion too-small-to-fail little ones.
In any case, we wouldn't recommend you try to travel on a World Passport. Davis himself was arrested numerous times for attempting to do so. So, while this world is still afflicted by nearly 200 governments the best solution for freedom today in an unfree world is to have more than one passport, preferably from a country with little or no tax and without the technical capability or desire to track you, tax you and regulate you wherever you go. We suggest contacting TDV Passports for a consultation on which nation-states are the least evil and on becoming a citizen of such a country… at least for now. And, who knows, maybe in 10 or 20 years this concept of collectivism and nation-states will be thrown out like the concept of human slavery was centuries ago.
If/when it does, it'll be too bad Garry Davis won't be here to see it.
---