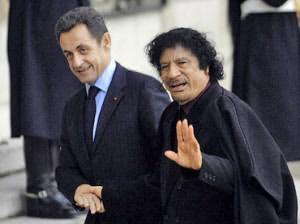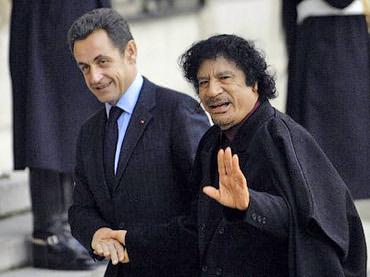 French President Nicolas Sarkozy has today been accused of accepting a €50 million donation from Libya's former leader, Colonel Gaddafi.
The allegations, made by French investigative website Mediapart, date back to Sarkozy's election campaign in 2007. Mediapart claims to have seen leaked documents from a legal dossier currently under investigation by a judge, and journalist Fabrice Arfi has told The Guardian that:
We knew these documents existed but it is the first time we have had the details of what was in them…and there are lots of details, including dates, places and amounts.
One document allegedly suggests Sarkozy and his advisers made visits to Libya in order to secure campaign funding from Gaddafi.
It is not the first time such allegations have been made. Gaddafi's son Saif al-Islam made similar claims last year, shortly before NATO's illegitimate bombardment of Libya.
In March 2011, when Sarkozy was trying to rally international support for a no fly zone in Libya — supposedly to prevent Gaddafi from causing a massacre in Benghazi — Saif gave a Euronews TV interview in which he referred to the Libyan government's funding of Sarkozy's election. He said:
We funded it. We have all the details and are ready to reveal everything. The first thing we want this clown to do is to give the money back to the Libyan people. He was given the assistance so he could help them, but he has disappointed us. Give us back our money.
A close relationship with Gaddafi was also suggested when the Libyan leader visited Paris in December 2007, and was allowed to pitch his Bedouin tent in the grounds of a mansion near to the Elysée Palace.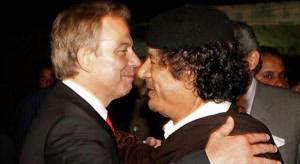 Sarkozy was not, of course, the only Western leader with whom Gaddafi had close relations. In November 2008 George Bush reportedly called Gaddafi to thank him for paying $1.5 billion in reparations to compensate for alleged Libyan acts of terrorism — including the 1988 PanAm Lockerbie bombing, an attack probably not committed by Abdelbasset al-Megrahi and which some claim Libya had no role in at all.
Tony Blair was also close to Gaddafi, visiting him in Libya several times both during and after his time as British Prime Minister. The two met at the infamous "deal in the desert" in 2004, when Gaddafi agreed to stop pursuing WMDs and join the "war on terror", again in 2007, and again a reported six times after Blair stepped down as Labour leader. Blair even reportedly traveled to Libya in Gaddafi's private jet.
The Gaddafis and Blair were seemingly on such good terms that Saif even referred to him as a "good friend" shortly before last year's NATO attack on Libya, when he asked Blair to personally intervene and help prevent armed insurgents launching an attempted overthrow of the Libyan government. Blair remained noticeably silent about his connections to the Gaddafis throughout last year's war, and has remained equally quiet since the Colonel's brutal ousting.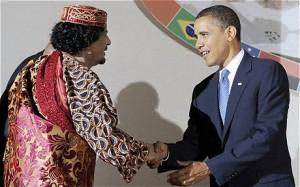 The latest allegations about Sarkozy again demonstrate the lying, manipulative, and two-faced nature of our elected leaders, where former allegiances are quickly forgotten when new opportunities to increase wealth and power are presented. Western leaders condemned their former ally Gaddafi for mobilizing forces against armed Islamist insurgents operating in his own country, so that they could use the purported threat as an excuse to militarily intervene, topple the regime, and then move in to secure lucrative reconstruction contracts and oil deals.
We now see a similar agenda being played out in Syria. The West is pushing to topple the defiantly pro-Iranian Syrian government by distorting the reality of events on the ground, where armed extremists responsible for terrorist bombings — in other words, Al Qaeda — make up part of the Syrian opposition.
Assad visited Paris for friendly talks with Sarkozy as recently as December 2010, when the Syrian president was greeted by an official reception ceremony at the Elysée Palace. Assad, Sarkozy and their wives even posed for photographs together at lunch in the Palace, and as former French foreign minister Bernard Kouchner recounted:
When we explained that this was the worst kind of tyrant, Sarkozy would say: 'Bashar protects Christians, and with a wife as modern as his, he can't be completely bad.'
In a repeat of his betrayal of former ally Gaddafi, Sarkozy is now one of the most prominent world leaders demanding that Assad step down.
---