By Bill122460 |
YouTube
9,142 views
Now if this news report (see video below) doesn't concern you that they are gearing up for Martial Law in America and foreign troops training with USA troops getting ready to take you and your families to FEMA camps.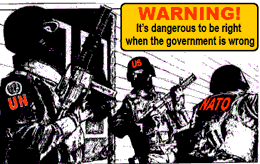 Then we don't know what will wake you people up to what's around the corner.
Don't say you haven't been warned that martial law is coming.
Remember folks… You are the terrorist to your corrupt government.
It's not to keep you safe. But this coming tyranny of Martial Law is to make sure you will submit and heel to orders as slaves of the corrupt cowards in power.
---
WarIsCrime's note (To those who still take it easy)
Brigade homeland tours start Oct. 1

By Gina Cavallaro – Army Times staff writer
Monday Sep 8, 2008 6:15:06 EDT

The 3rd Infantry Division's 1st Brigade Combat Team has spent 35 of the last 60 months in Iraq patrolling in full battle rattle, helping restore essential services and escorting supply convoys. Now they're training for the same mission — with a twist — at home.

Beginning Oct. 1 for 12 months, the 1st BCT will be under the day-to-day control of U.S. Army North, the Army service component of Northern Command, as an on-call federal response force for natural or manmade emergencies and disasters, including terrorist attacks.
Wake up America, your sons are coming! They don't know yet how to live, but they already know how to kill. Don't be cruel to them — they're just doing their job…
First they came for the Communists,
and I didn't speak up,
because I wasn't a Communist.
Then they came for the Jews,
and I didn't speak up,
because I wasn't a Jew.
Then they came for the Catholics,
and I didn't speak up,
because I was a Protestant.
Then they came for me,
and by that time there was no one
left to speak up for me.
"So long as any large group of persons, anywhere on this earth, believe the ancient superstition that some Authority is responsible for their welfare, they will set up some image of that Authority and try to obey it. And the result will be poverty and war."

— Rose Wilder Lane. The Discovery of Freedom. 1943, page 70. (The 50th Anniversary Edition reprinted 1993 by Fox & Wilkes.)