Sydney Schanberg |
You Are Being Lied To
1,970 views
October 2, 2008
There is a subject John McCain almost never brings up and has never been open about — his long-time opposition to releasing documents and information about American prisoners of war (POW) in Vietnam and the missing in action (MIA) who have still not been accounted for. Since McCain himself, a downed Navy pilot, was a prisoner in Hanoi for five-and-a-half years, his staunch resistance to laying open the POW/MIA records has baffled colleagues and others who have followed his career. His anti-disclosure campaign has been successful. Literally thousands of documents that would otherwise have been declassified long ago have been legislated into secrecy.
Many Vietnam veterans and former POWs have fumed at McCain for keeping these and other wartime files sealed up. His explanation, offered freely in Senate hearings and floor speeches, is that no one has been proven still alive and that releasing the files would revive painful memories and cause needless emotional stress to former prisoners, their families, and the families of MIAs still unaccounted for. But what if some of these returned prisoners, as has always been the case at the conclusion of wars, reveal information to their debriefing officers about other prisoners believed still held in captivity? What justification is there for filtering such information through the Pentagon rather than allowing access to source materials?
Hundreds of MIA families have for years been questioning if concern for their feelings is the real reason for the secrecy.
Prisoners Left Behind
A smaller number of former POWs, MIA families, and veterans have suggested there is something especially damning about McCain that the senator wants to keep hidden.
The prisoner return in 1973 saw 591 Americans repatriated by North Vietnam. The problem was that the US intelligence list of men believed to be alive at that time in captivity — in Vietnam, Laos, and possibly in southern China and in the Soviet Union — was much larger. Possibly hundreds of men larger. For example, only nine of the 591 returnees came out of Laos, though experts in US military intelligence listed 311 men as missing in that Hanoi-run country alone, and their field reports indicated that many of those men were probably still alive.
Over the years in Washington, McCain, at times almost single-handedly, has pushed through Pentagon-desired legislation to make it impossible or much harder for the public to acquire POW/MIA information and much easier for the defense bureaucracy to keep it hidden.
"The Truth Bill"
In 1989, eleven members of the House of Representatives introduced a measure they called "The Truth Bill." A brief and simple document, it said: "[The] head of each department or agency which holds or receives any records and information, including live-sighting reports, which have been correlated or possibly correlated to United States personnel listed as prisoner of war or missing in action from World War II, the Korean conflict, and the Vietnam conflict shall make available to the public all such records and information held or received by that department or agency. In addition, the Department of Defense shall make available to the public with its records and information a complete listing of United States personnel classified as prisoner of war, missing in action, or killed in action (body not returned) from World War II, the Korean conflict, and the Vietnam conflict."
Opposed by Pentagon
Bitterly opposed by the Pentagon, "The Truth Bill" got nowhere. It was reintroduced in the next Congress in 1991 — and again disappeared. Then, suddenly, out of the Senate, birthed by the Arizona senator, a new piece of legislation emerged. It was called "The McCain Bill." This measure turned "The Truth Bill" on its head. It created a bureaucratic maze from which only a fraction of the available documents could emerge. And it became law. So restrictive were its provisions that one clause actually said the Pentagon didn't even have to inform the public when it received intelligence that Americans were alive in captivity.
Chilling Effect Cited
McCain does not deal lightly with those who disagree with him on any of these issues or who suggest that the evidence indeed shows that a significant number of prisoners were alive and cached away as future bargaining chips when he came home in the group of 591 released in 1973.
Over the years, he has regularly vilified any group or person who keeps trying to pry out more evidence about MIAs. He calls them "hoaxers" and "charlatans" and "conspiracy theorists." Before he died last year of leukemia, retired Colonel Ted Guy, a highly admired POW and one of the most dogged resisters in the camps, wrote an angry open letter to the senator in an MIA newsletter. In it, he said of McCain's stream of insults: "John, does this include Senator Bob Smith and other concerned elected officials? Does this include the families of the missing where there is overwhelming evidence that their loved ones were 'last known alive?' Does this include some of your fellow POWs?"
Sightings Dismissed
McCain has said again and again that he has seen no "credible" evidence that more than a tiny handful of men might have been alive in captivity after the official prison return in 1973. He dismisses all of the subsequent radio intercepts, live sightings, satellite photos, CIA reports, defector information, recovered enemy documents, and reports of ransom demands — thousands and thousands of pieces of information indicating live captives — as meaningless. He has even described these intelligence reports as the rough equivalent of UFO and alien sightings.
In Congress, colleagues and staffers who have seen him erupt — in the open and, more often, in closed meetings — profess themselves confounded by his behavior. Insisting upon anonymity so as not to invite one of his verbal assaults, they say they have no easy way to explain why a former POW would work so hard and so persistently to keep POW/MIA information from coming out.
McCain's Sense of Disgrace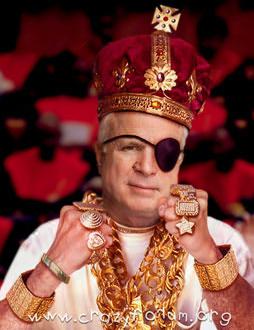 Some McCain watchers searching for answers point to his recently published bestselling autobiography, Faith of My Fathers
, half of which is devoted to his years as a prisoner. In the book, he says he felt badly throughout his captivity because he knew he was being treated more leniently than his fellow POWs owing to his propaganda value as the son of Admiral John S. McCain II, who was then the CINCPAC — commander in chief of all US forces in the Pacific region, including Vietnam. (His captors considered him a prize catch and nicknamed him the "Crown Prince.")
Also in the book, the Arizona senator repeatedly expresses guilt and disgrace at having broken under torture and given the North Vietnamese a taped confession, broadcast over the camp loudspeakers, saying he was a war criminal who had, among other acts, bombed a school. "I felt faithless and couldn't control my despair," he writes, revealing that he made two half-hearted attempts at suicide. Most tellingly, he said he lived in "dread" that his father would find out. "I still wince," he says, "when I recall wondering if my father had heard of my disgrace."
After McCain returned home, he says he told his father about the confession, but "never discussed it at length." The admiral, McCain says, didn't indicate he had heard anything about it before.
McCain's father died in 1981. McCain writes: "I only recently learned that the tape … had been broadcast outside the prison and had come to the attention of my father."
McCain wasn't alone — it's well-known that a sizeable percentage of prisoners of war will break down under torture. In fact, many of his supporters view McCain's prison travails as evidence of his overall heroism.
Fears Unpublished Details?
But how would McCain's forced confession alone explain his endless campaign against releasing MIA/POW information?
Some veterans and other McCain watchers have speculated that McCain's mortification, given his family's proud military tradition (his grandfather was also an admiral), was so severe that it continues to haunt him and make him fear any opening up of information that could revive previously unpublished details of the era, including his own nagging history.
Generated a Hero Aura
None of McCain's political opponents ever dared criticize him for his legislative history on withholding POW information, and the press never brought itself to be direct enough to even question him on the issue.
It's not that he didn't give reporters plenty of openings to ask the right Vietnam questions. For one thing, he used his history as a Vietnam prisoner as a constant campaign theme in his speeches. Rarely did he appear without a larger-than-life photo backdrop showing him in battle gear as a Navy pilot before he was shot down over Hanoi in 1967.
Here is a passage typical of the soft, even erroneous, reporting on McCain — this from a March 4 story in the New York Times: "His most striking achievement came when he joined with another Vietnam veteran, Senator John Kerry, Democrat of Massachusetts, to puncture the myth that Vietnam continued holding American prisoners." The piece went on to speak with admiration about "his concern over the prisoners-of-war issue" — but, tellingly, it offered no details.
Recasting the Issue
Kerry and McCain also tried, at every opportunity, to recast the issue as a debate about how many men could still be alive today, instead of the real issue at stake: How many men were alive in 1973 after the 591 were returned?
Although much evidence was kept out of the committee's final report in January 1993, enough of it, albeit watered down by the committee's majority, was inserted by the determined staff to demonstrate conclusively that all the prisoners had not come home. Still, if the reader didn't plow through the entire 1,223-page report but scanned just the brief conclusions in the 43-page executive summary at the beginning, he or she would have found only a weak and pallid statement saying that there was "evidence … that indicates the possibility of survival, at least for a small number" after the repatriation of 1973. On page 468 of the report, McCain provided his own personal statement, saying that "we found no compelling evidence to prove that Americans are alive in captivity today. There is some evidence — though no proof — to suggest only the possibility that a few Americans may have been kept behind after the end of American military involvement in Vietnam."
Two Defense Secretaries
And even these meager concessions were not voluntary. They had been forced by the sworn public testimony before the Senate committee of two former defense secretaries from the Nixon Administration, Melvin Laird and James Schlesinger. Both these men testified that they believed in 1973, from strong intelligence data, that a number of prisoners in Vietnam and Laos had not been returned. Their testimony has never been challenged. Schlesinger, before becoming defense secretary, had been the CIA director.
During his committee appearance, Schlesinger was asked why Nixon would have accepted the prisoners being held back in 1973. He replied: "One must assume that we had concluded that the bargaining position of the United States…was quite weak. We were anxious to get our troops out and we were not going to roil the waters…"
Then he was asked "a very simple question. In your view, did we leave men behind?"
"Some Were Left Behind"
"I think that as of now," replied the former Pentagon secretary, "that I can come to no other conclusion [that] … some were left behind."
On January 26, 1994, when a resolution ardently backed by McCain and Kerry came up in the Senate calling for the lifting of the two decades old economic embargo against Vietnam, some members — in an effort to stall the measure — tried to present new evidence about men left behind. McCain rose to his feet and, offering no rebuttal evidence of his own, proceeded to chide "the professional malcontents, conspiracy mongers, con artists and dime-store Rambos who attend this issue." The resolution passed, 62-38.
"Isolated Personnel"
These days, the Pentagon seems to be moving toward closing its POW/MIA books completely. In recent statements and reports, it has begun describing prisoners not as POWs but as IPs — Isolated Personnel.
And in a 1999 booklet, the Pentagon said: "By the end of the year 2004, we will have moved from the way the US government conducts the business of recovery and accounting [now] to an active program of loss prevention, immediate rescues, and rapid post-hostility accounting." More important, there seems to be no allocation of funds in 2004 for the task force that now conducts POW/MIA investigations, searches for remains, and does archival research.
As for McCain, he continues to stonewall on his own POW records.
---
Pre-order the revised and expanded edition of the book, "You Are STILL Being Lied To: The NEW Disinformation Guide to Media Distortion, Historical Whitewashes and Cultural Myths
(release date: November 1, 2008).