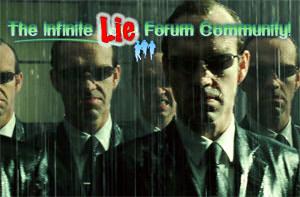 An anti-alternative research website called "The Infinite Love Forum Community" has recently publshed a BLATANT LIE about the Dot Connector magazine. The piece of disinformation, certainly penned by an Agent Smith (under the nickname "johnblack"), says:
"abit of research into Andrew Cheetham who runs the dot connector magazine … He runs a publishing company called Keystone truth publishing …keystone is used by the masons alot…" etc.
I am alone running the Dot Connector magazine (as well as War Is Crime website), and I am not Andrew Cheetham. I don't even live in the U.K. (have been there 3 times in my life, never longer than 48 hours). As for a publishing company, the Dot Connector never had any! (Still doesn't have.)
I understand that on a discussion forum people can freely express their opinions, but does it mean that anybody is free to post such a blatant lie??
Sorry folks, but a website which allows such things to be published should rather be called "The Infinite LIE Forum Community!"
Paul Bondarovski,
editor & publisher of The Dot Connector magazine
---
P.S.
A special note about Andrew Cheetham. He is a co-founder and one of the most active members of the
Whole Truth Coalition
. Check out their website, and Andrew Cheetham's posts in particular, and see for yourself how "masonic" they are!
Also, as far as I know, Keystone Investigations agency had never existed!! It had been registered 3 or 4 years ago, but Andrew Cheetham finally didn't like the idea, abandoned it, and never started the company!
In fact, it's more than a year that "johnblack", using different nicknames, is posting this disinformation on all the forums he can access with a quite evident goal to discredit The Dot Connector. Such a persistence speaks for itself and shows who he is working for.