Prof. Dr. B. Smalhout | Transl. from:
De Telegraaf
, The Netherlands, Sept. 8, 2012.
3,608 views
January 8, 2012
[…] For nearly three-quarters of a century the world was told that the Second World War was caused by a dangerous psychopath, Adolf Hitler, along with his racist thugs, the Nazis. But gradually it has become clear that World War II was not only prepared but also logistically and technically supported by the largest and most notorious cartel.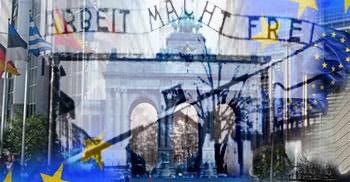 This combination of powerful companies consisted of the IG Farben cartel, which was an amalgamation of Bayer, BASF, Hoechst and some other chemical-pharmaceutical companies. In the famous postwar Nuremberg process, where the major war criminals were tried, it was inter alia that without IG Farben the Second World War probably would not have happened.
These companies yielded not only drugs but also all of the explosives that were indispensable for warfare. They had already done this in the First World War. Even back then, there were attempts made throughout Europe to make it technically and commercially dependent on a universal cartel under German leadership.
This did not work in the First World War. But after the Second World War, the old German goal of bringing it to fruition, in the form of economic and political cartels in a large number of European countries, came to life under the name of the EU.
It is therefore logical that many former leaders of the cartel, immediately after the First and Second World Wars, were involved in building the EU. They were not dressed in military uniforms, but in the familiar gray blazer suits of professional business agents and managers.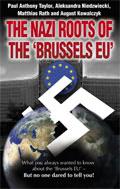 The most infamous manager was a certain Professor Dr. Walter Hallstein (1901-1982, [member of the Nazi party 1939-1945]), who was one of the key figures in European integration after the Second World War. He was a brilliant professor of law at the University of Rostock in Germany. He made headlines with his ideas of a united Europe, which he had already outlined in a major speech in 1939 entitled "Gross Deutschland als Rechtseinheit".
After the war he became the first president of the EU Commission and considered himself as the Prime Minister of Europe. In addition, he allowed himself to assist a number of former war criminals who had been convicted at Nuremberg.
The old Nazi idea that the EU is the ideal form of government, like the German slogan "Ein Volk, ein Reich, ein Führer" (One people, one empire, one leader), also explains the strong resistance that is currently encountered by national politicians attempting to rid their country of the oppressive EU ties. […]
Donate and Make a Difference
War Is Crime is an independent non-commercial website. It is not addressed to "the masses" but to the individuals, to you personally. Please consider sending a donation to help us keep it running. Your generous support makes the world a better place!