G. Edward Griffin | American Media
2,453 views
2008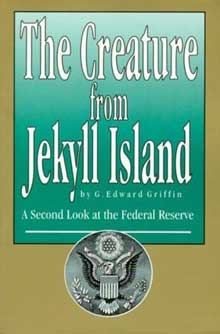 Do you want to know the truth about money? Where does money come from? Where does it go? Who makes it?
The money magicians' secrets are unveiled. We get a close look at their mirrors and smoke machines, their pulleys, cogs, and wheels that create the grand illusion called money. A dry and boring subject? Just wait! You'll be hooked in five minutes.
The Creature from Jekyll Island
reads like a detective story which it really is. But it's all true. This book is about the most blatant scam of all history. It's all here: the cause of wars, boom-bust cycles, inflation, depression, prosperity. The Creature from Jekyll Island
is a "must read." Your world view will definitely change. You'll never trust a politician or a banker again.
"I believe that banking institutions are more dangerous to our liberties than standing armies. If the American people ever allow private banks to control the issue of their currency, first by inflation, then by deflation, the banks and corporations that will grow up around [the banks] will deprive the people of all property until their children wake-up homeless on the continent their fathers conquered. The issuing power should be taken from the banks and restored to the people, to whom it properly belongs." — Thomas Jefferson.
"They may pass a law to issue paper money, but twenty laws will not make the people receive it. Paper money is founded upon fraud and knavery." — George Mason in a letter to George Washington.
"The man who trades freedom for security does not deserve nor will he ever receive either." — Benjamin Franklin.
"For the love of money is the root for all kinds of evil." — 1 Timothy 6:10.
---