Deepak Sarkar | War Is Crime
5,065 views
December 23, 2008
"In the councils of government, we must guard against the acquisition of unwarranted influence, whether sought or unsought, by the military-industrial complex. The potential for the disastrous rise of misplaced power exists and will persist."
Dwight D. Eisenhower, Farewell Address to the Nation, January 17, 1961.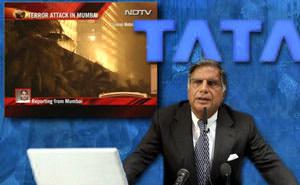 Terrorism is a good business for the US and Israeli private defense industries which targeted Indian market using emerging Indian private defense industries including Tata Advanced Systems (TAS) owned by Ratan Tata, who is also the owner of Taj Mahal Hotel in Mumbai!
Indians must not give in to this fear mongering aristocratic evil doers who have been recruiting youths around the world as Al-Qaeda foot soldiers for cover-ups. Rather help recognize these few multinationals like United Technologies, Lockheed Martin, Sikorsky, Boeing, who have invested US$40 billion in Terrorism Industry since 9/11 and now justifying market spreading terror with their private mercenaries like Blackwater and MPRI using bullets and ammunition banned even for international ware fare!
Here is Ratan Tata on CNN: "The restaurant where the firefight took place is riddled with bullet marks, and the walls are scarred with grenade blasts. And it looks like it's been hit by a bomb…. We had people who died being shot through bullet-proof vests…. I knew several of the staff members … Some of them were gone just in cold blood, I understand, just shot in the head or shot at point-blank range."
Ratan Tata is often described as India's David Rockefeller! Well, David Rockefeller was one of the chief architects of 9/11 terror in USA transferring World Trade Center six weeks prior to controlled demolitions as would be obvious in 'Real Path To 9/11'. He was also ex-Chairman of the secretive world power Bilderberg and the current chairman of another secretive aristocratic power, Trilateral Commision, as well as a permanent steering committee member of Bilderberg — a strong proponent of "supranational sovereignty of an intellectual elite and world bankers."
The recent Mumbai incident has all the signatures of 9/11 and UK subway bombing — they had warnings, they increased security, they lowered security prior to the event, and the event was well planned — professionally executed.
Let us hear Ratan Tata on CNN again: "There seems to be no doubt that they knew their way around the hotel, that they seemed to know it in the night or in the daytime. They seemed to have planned their moves quite well. And there seemed to have been a lot of pre-planning in terms of what they did, and how they managed to carry on for three days and sustain themselves during that time".
The question is who are they for whom security can be lowered despite threat for successful terror implementation? The answer can be found only analyzing who evetually benefit from this economically and politically!
The obvious gainers of 9/11 were the Private Defense contractors, Mercenaries, Silverstein Properties and Westfield America, Rockefeller empire including Citigroup and Zion's Evangelic Christian Soldiers who have been counting days for genocidal Armageddon — Biblical end of the world.
The cozy relation among Indian multinationals like TATA (TAS) and Wipro with US and Israeli defense and security industry giants have started importing terror and related economy to India, of course, at the cost of "expendable" innocent lives and destruction as "colateral damages."
And here is what Ratan Tata suggests on CNN what Indian should do: "If we need to get expertise from outside, we should not stand on ceremony to hold back. We should go to the best place possible to get expertise, and have that installed with us in terms of hardware, in terms of training, in terms of strategy."
Now imagine the economic gain for TATA, if TAS is the main interface in India of arming governments, institutions, and corporations with helicopters and technologies in all cities and provinces throughout India to pre-emptively guard them from virtual Al-Virus terrorism!
Now let us hear from Sikorsky president Jeffrey P. Pino: "India represents an expansive rotorcraft market with enormous potential and opportunity. I am most excited at the possibility of working with the well-known and admired Tata Group, and tapping into India's skilled aerospace industry and capability."
Finally, President Bush's call to Prime minister Manmohan Singh. "Out of this tragedy can come an opportunity to hold these extremists accountable and demonstrate the world's shared commitment to combat terrorism", White House spokesman Gordon Johndroe said in a statement.
No amount of hi-tech security can secure the world when intelligence works in secrecy without accountabilities for aristocrative private gains. Only truth can overcome fear! Here is the Truth Package again for world citizens:
So, what is Al-Qaida? www.kolki.com/peace/What-Is-Al-Qaeda.doc
Home Run Electronic Military Hijacking www.kolki.com/peace/Home-Run.htm
Real Path To 9/11: www.kolki.com/peace/Real-Path-To-9-11.htm
No country must allow FBI agents inside the country for investigation. They will either try to destroy/implant evidence to support their counterpart within law enforcements in framing up the theory that most suites US/NATO alliance for evangelic aristocratic supremacy along with gathering success status of the covert operation!
It is unfortunate that India gave up sovereignty to US/NATO alliance under the current inefficient minority government where RAW became part of CIA just like ISI, dealing with criminal Bush administration which murdered their own American citizens for world supremacy on 9/11.
Now they are together enjoying the success of 9/11 in USA, converting minority governments to military junta leading India to US-like financial meltdown because the Zionists cannot compete with the old world under fair game, so they are rewriting their barbaric Hellenistic history including new monetary policy — because world already know their techniques which they cannot play anymore.
Local citizens have always been fooled by events and related rumours since the time of Alexander the Conqueror helping Hellenistic history repeat again and again as most wise act ignorant.
What has been going on in India can't happen without the help of RAW and top level police and military brass, just like in USA, UK, and elsewhere.
Unfortunately, it's all about shadow government that started from USA in 1980 under Ronald Regan, now spreading the world as Al-Virus with the help of Bilderberg (the Aristocrative Mafia), covert Intelligence wings including CIA, MI6, Mossad, and ISI, the Queen and the Vatican (Holy See).
It's all about taking world back to monarchy in the name of democratic oligarchy, uniting them under the cross (void of love of Buddha, Jesus and Muhammad).  
God helps world citizens to rise unitedly against this destructive power, starting with banning all foreign NGOs following Russia's lead that will end the violent advancement of the cross giving commoners much needed relief and peace in normal way of life!
---
Deepak Sarkar is the author of "Poems by Kolki — Absolutely Humane." His Poetry and Peace website: www.kolki.com