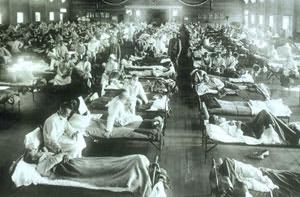 Click here for a 25 minute audio of Alex Jones talking with Dr Bill Deagle and NWO researcher Steve Quayle last night. Deagle and Quayle are 100% agreed that the current Mexico outbreak is a probable precursor to several more "waves", one of which will be "the big one".
Both state that they had received intelligence quite a while back that a potential pandemic had been planned. In Part 1 of Bill Deagle's 2006 Granada Forum Lecture he goes into this in quite some depth. We have reported on the possibility of this ourselves here, in our summary article 2009: A Tale of Two Timelines.
Meanwhile, I fully endorse Kerry's comments below about the power of consciousness, and the importance of staying in observer mode…
— Bill
---
There is evidence from one of our sources that this latest pandemic is being used as a distraction to move the attention away from the financial meltdown.
We are being sent information from Mexico stating that there has been some effort to tone down the actual impact of the virus in order to safeguard tourism.
We have been notified also that Tamiflu mentioned in the Dan Burisch update has a host of negative side effects (according to one researcher) who wrote:
Let's not forget that Tamiflu comes with its own problems, including side effects like nausea, vomiting, diarrhea, headache, dizziness, fatigue, cough…the very symptoms you're trying to avoid. And let's not forget that Japan banned this drug for children back in 2007, after links to suicidal behavior.
Still another source mentioned that every year in the U.S. something like 30,000 to 50,000 die from seasonal flu — worth noting to keep things in perspective.
There is growing evidence according to Deagle and others that this is a bioweaponized virus — a targeted virus which is something that Jake Simpson has mentioned to me in conversations…
And for researchers who want to follow this trail of racially targeted viruses…I would encourage them to investigate the links to Promis software, as part of the targeting mechanism that has been in place for some time. It is worthwhile going back over the whole Octopus scenario covered in the excellent book, The Octopus, by Danny Casolaro… a journalist who was killed because of its contents… his tribute is on our website.
Another book to read online is a free Ebook called The Full Circle by another journalist who went into hiding… about Promis and the Octopus…
And this all leads to the death of the microbiologists… The links between bioweapons, viruses and Promis software are addressed in this 2002 article from Michael Davidson and Michael C. Ruppert, entitled, A Career in Microbiology Can Be Harmful to Your Health.
— Kerry
---
NOTE:
… Although we are not giving medical advice of any kind here,
colloidal silver
and/or
MMS
are both said to be possible remedies or even preventative measures against this type and many other types of viruses.
An even better measure is 'consciousness'. Through meditation and other disciplines you can raise your vibrations high enough so that you will not be affected regardless. Do not feed into fear or needless obsessive focus on this. Step back, be aware, stay in the observer mode.
— Kerry
---