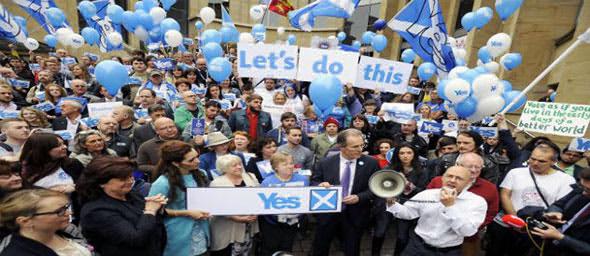 "Those who cast the votes decide nothing. Those who count the votes decide everything". — Joseph Stalin.
Scotland voted 'No.' This is what headlines across the world read this morning, telling the story about how Scotland rejected independence from the United Kingdom. Slightly more muted, however, are reports of vote tampering, which threaten the narrative put forth by the global media – that, today, Scotland chose to remain a part of the United Kingdom.
What if, in reality, Scotland chose independence? We might never know. One thing is for sure, the 2014 Scottish vote for independence will join this long (and misleading) list of controversial elections.
Just like the US in 2000 as George W. Bush and Al Gore faced off in the Presidential election or every single nation the US has invaded, Scotland now knows what it is like to have a so-called "controversial" election (being an anarchist, every election is controversial).
Yahoo News reported that election officials confirmed police are investigating evidence showing at least 10 instances in which electoral fraud took place in Glasgow. The technique for vote rigging being used is called "personation." This happens when someone impersonates another voter and votes on behalf of that person before they arrive to the poll station.
"Somebody turned up to vote, they gave their name, the presiding officer went to cross off their name on their list of voters to give them a ballot paper and found that their name had already been crossed off and a ballot paper already issued to somebody who apparently had the same name," Colin Edgar from Glasgow City Council said.
The investigation will test the ballots for fingerprints. Police have said they will use gloves to handle all of the ballots and paper involved in the vote rigging scheme. Further evidence of vote rigging is popping up online. In the following video below, "Scotland Independence vote rigging exposed – Smoking Gun Evidence of vote being rigged!", the evidence can be seen:
In the first example, bundles of referendum papers are seen on top of a table designated for 'No' votes and yet when zoomed in, the top paper on two of the bundles clearly shows an X marked in the box for 'Yes'.
In another example, a woman is shown taking one paper from a 'No' pile and places it in the 'Yes' pile. She then takes two cards from the 'Yes' piles and places them in the 'No' pile.
"Last night police officers were present at the count to remove the ballot papers and keep them as evidence," reports the Daily Mail. "The papers were from 10 different boxes across Glasgow, and not concentrated in one area."
As many Scottish voters are making clear, the integrity of the election has been undermined and this month's historic referendum might have been manipulated through direct vote rigging.
Many have said the crown was terrified about a possible split, with Britain's Queen Elizabeth saying, "Well, I hope people will think very carefully about the future."
The next day British Prime Minister David Cameron warned Scots, "There's no going back from this. No re-run. If Scotland votes 'yes', the UK will split and we will go our separate ways forever."
A survey conducted by Britain-based ICM research foundation and showed that, before the election, the pro-independence campaign enjoyed 54-percent support over the 46 percent for anti-independence campaign.
Officialy, Scotland voted to remain part of the United Kingdom, rejecting independence by a margin of 55% to 45%.
The Anarchist Take
"Voting for freedom" is obviously a paradox. The idea that 55% of people can force their will on 45% of other people clearly shows that demonocracy is inherently anti-freedom.
And, as we pointed out here, while we support more, not less governments, until we finally achieve 7 billion governments on Earth, the choice was just one of slaves in Scotland picking their new owners.
It was clear that the people in Scotland were quite heavily split upon who should own them and so, even if this was rigged to some degree, it does not matter.
The problem is that people still want owners. We have a lot of work to do to wake people up… a lot! They don't even realize that not being owned is an option and, worse, many fear not having owners.
My father's side of the family is of mostly Scottish descent but those who do not want to even have slightly more independent and localized owners are not my countrymen. Those who want any owners at all are not my countrymen.
I stand with those who aspire to the only moral and peaceful political stance. The one that is a-political. The one that does not initiate violence against peaceful people to make them adhere to their arbitrary ideas or desires. The one that not only doesn't want to be owned by others but who will do everything they can to fight being enslaved.
Even if vote rigging had not changed the election yesterday it was clear that since almost all voted and yet nearly none wanted a third option, "I don't want to be owned", that nearly everyone in the geographic tax farm of Scotland have Stockholm Syndrome… they may as well change that to Scottholm Syndrome now.
Those who do not wake up to the prison walls all around them will find that those virtual walls become more and more solid.
Our only hope is to wake enough people up before it is too late or to get as far away from them as possible both physically (expatriating to much freer areas) and financially (internationalizing assets and keeping them in precious metals, bitcoin and other hard assets outside of the current system – subscribe to The Dollar Vigilante newsletter for more info on how to do so).
---
Anarcho-Capitalist. Libertarian. Freedom fighter against mankind's two biggest enemies, the State and the Central Banks. Jeff Berwick is the founder of The Dollar Vigilante, CEO of TDV Media & Services and host of the popular video podcast, Anarchast. Jeff is a prominent speaker at many of the world's freedom, investment and gold conferences as well as regularly in the media including CNBC, CNN and Fox Business.