Robert Fisk |
544 pages, Nation Books
1,633 views
July 2008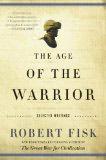 Robert Fisk has reported from the Middle East for 32 years and covered 11 major wars. Britain's most celebrated foreign correspondent, he is allowed unique freedom in his essays and columns to speak out against what he sees as "the fraud and injustices of a world in which consent has become automatic." In a journalistic age in which even the mildest criticism of authority is considered subversive, Fisk's reporting is more vital than ever.
In The Age of the Warrior
, Fisk's eloquent and far-ranging articles on international politics have been brought together in a single volume for the first time. He takes us from the London bombings to the streets of Lebanon, from war-torn Iraq to the horrors of the Israeli-Palestinian conflict, offering courageous, eyewitness accounts of our blood-stained past and present.
A collection of remarkable breadth and power from one of our most popular, provocative and indefatigable journalists, The Age of the Warrior
is indispensable reading for our complex, battle-scarred world.
"Robert Fisk is one of the outstanding reporters of this generation. As a war correspondent he is unrivalled." — Financial Times.
---