Janet Swerdlow |
Expansions
1,149 views
October 3, 2008
I think that everything everyone is seeing on television about the "naturally enhanced" disaster in New Orleans is creating a lot of self-introspection here in the United States. People are really thinking about how this could have happened here, and more importantly, they are wondering, Can this happen to me?
Most people here in America think that they are free and can choose to do what they want, when they want. I was raised, imprinted, and really, indoctrinated into the American way of life. In school and by American society, I was raised to think that I was free and that America is the land of opportunity, where everyone could do everything that he or she wanted.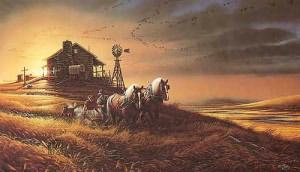 Everyone was told that anyone could grow up to be president of the United States, and this was evidenced by George Washington who was in the army, or Abraham Linclon who grew up in a log cabin. Humble beginnings of all our touted great leaders was the norm. Christopher Columbus, who everybody knows discovered America, was another poor person with a dream who went to the royalty of Europe, received funding and went on to discover the greatest country that ever existed.
I believed in the American way and the American dream. I believed that if I wanted to be president of the US, I could be. I believed that Christopher Columbus really discovered America, and I believed that the leaders of this country really cared about me and all the other people out there like me.
As I got older and heard other people talking, and read books outside of school, I began to feel really betrayed about what I had learned versus what I was hearing and reading. I felt betrayed when I read that maybe Christopher Columbus wasn't the discoverer of America, and that maybe the Vikings had been here long before then.
As a child, I didn't know that Japanese-American citizens were put in concentration camps right here in the US during the war. I didn't know that they lost everything and eventually had to start their lives over again.
I didn't know that every American President was related to English royalty except for one or two—who probably have some other deep connection that has not yet been revealed, although I did wonder how the ordinary person could run for president and pay for all the campaigning that I saw going on.
I thought I could be anything I wanted and go anywhere I wanted. After all, I was raised in the land of the free!
As I went into adulthood, I also read more and more about the true controllers of this country, and wondered who that might be and how they might have gained such control.
I still didn't "get it" that it was a covert plot behind all that was so eloquently portrayed to the American people.
While I knew that there was a lot I didn't know politically, I, like most Americans, assumed that it was for my own good—that the government had a right to keep its secrets to protect the general population.
I can remember when Bill Clinton was campaigning for President, and I had a lot of hope still, as I felt we needed a youthful, strong leader that really cared about the people. I felt he was the hope of our future, as did many other Americans. But, like the other presidents before him, once elected, all his promises seemed empty and he seemed like he was putting on a show without ever really doing anything. As an American, I really began to get discouraged and feel hopeless about the leadership of our country.
I love the America that I was brought up to believe existed. I love the fact that I have the right to free speech, that I can be anyone that I want to be, do anything that I want to do so long as it harms no one else. I love that I can have open discussions on any subject and can economically strive to be on the top. I love the ideals and principles upon which I was told the country was founded.
Now, as the years have passed, I have found the other side of what I was told—the part of America that hides in the dark. I have studied and researched our founding fathers, and their Masonic Heritage. I myself am the descendent of Masons, and was in Job's Daughters for several years as a teenager, which is their youth organization for young girls. I was proud of my Masonic heritage, until I began to study the Masonic organizations in depth.
I also researched the founding fathers and learned that these people who I perceived to have founded this country to establish freedom for the ordinary person really founded it so they could gain wealth and control over the alcohol, opium, and slave industries. I learned that there were many white slaves as well as black slaves, but they don't tell you that here in the American schools. I learned that blacks in Africa sold blacks to other blacks as well as to whites. I learned that there were even black slave owners here in America, although of course not in large numbers.
I learned that America was not founded upon freedom of religious and individual rights, but freedom of commerce for a select few. And when one thinks about it, if this country was founded by and is still run by families that were involved in alcohol, opium and slave trades, then what can one really expect if this is the energy that founded and propelled this country forward?
How can the powers that be control this population? I'd like to see them live for a year as a family of four lives with a typical income stream. They couldn't do it. They give tiny minimum wage raises and then laud themselves as saints and saviors to the all the "little people" out there.
Schools still educate children to work for others. Entrepreneurship is not valued. I will never get my books published by any large publishing house. Hollywood will not do our story. Only those who serve the overall agenda of the powers-that-be will be "allowed" into the public domain.
Every echelon of society is "watched" from the top down, guided, probed, and studied for anyone who is outside the norm. They will take your information and then chew you up and spit you out. Look at all the murders of scientists, for example, through the years. Once the powers have what they want, and they are done with you, then you are gone.
The same for media icons—look at Martha Stewart and even Michael Jackson. It doesn't matter what you think of them. Merely observe their process and you can learn about the powers that be in the comfort of your own home.
Many people think that money is power. You are wrong. Knowledge is power. That is what the power that be do, they gather knowledge. They learn from the Amazon Jungle and then they burn it down. They study with the indigenous peoples, and then they destroy them. They systematically suck up the knowledge of the world and get rid of their sources when they are done, feeding little information streams to the public, bit by bit, so that the public thinks that they are "learning."
The powers that be are brilliant long-term global planners. While you are wondering about your life and how you can pay your bills next month, they are systematically encircling us and squeezing us into one global mind-pattern for the purpose of control.
They start with the young, who they imprint at the earliest of ages, and eliminate the older people who have the history, and the limit the exposure of printed materials to only those that they want distributed. They tie up our monetary systems and our abilities to move forward.
When we were in Italy a couple of years ago, driving through that country, I heard the "tone" of war, and at that moment I understood, and I saw that once this planet is under control the plan for is to turn this now global society into a military society designed to fight and conquer other planets and other races. I can't prove this to you, nor do I want to. I want you to make your own conclusions and discover your own information.
These are the final days of civilization as we know it here in America. We now have 7,000 Mexican troops on our soil, for the first time since 1846. We are being squeezed from the south, next will come the earthquakes and volcanoes in the west, followed by destruction of the East Coast. The Canadian Government is already putting pressure on Americans from the North.
This is the time for those of us who are Americans, and who want to remain in the America of our hopes, dreams, and ideals, to work like there is no tomorrow on our mind-patterns that allow us to remain free. I want to remain proud to be an American. I want those ideals that were touted to me as a child, to truly exist here, on all levels, not just in my mind.
This is truly a time of self-reflection for all Americans, and this is a time of learning for all people around the world. Freedom must exist first in your mind and the outer world will reflect this for you. This is a universal law that you can bring and establish right here in the United States as well as globally.
---