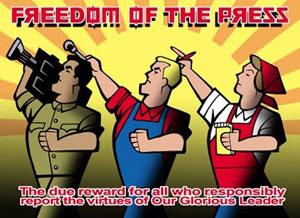 While Britain arrests shadow politicians, France, it would appear, prefers to lock up its journalists. Already languishing in 35th position on the world press freedom rankings — just below Mali (according to Reporters Sans Frontières) — France could well slide past South Africa and Bosnia-Herzegovina in the New Year given recent events. (Britain is joint 23rd.)
Last Friday Vittorio de Filippis, former publisher of the [formerly] left-wing Libération newspaper, was — according to press reports — seized at his home before dawn, handcuffed in front of two young boys and whisked off for interrogation by an investigating magistrate. Police told him he was "worse than scum" and kept him for five hours in a cell with no access to a lawyer. Oh, and he was strip-searched twice and subjected to "body cavity" examinations.
Damian Green, the UK's Conservative immigration spokesman who was held for nine hours last Thursday should count himself lucky: his cavities were off limits.
Mr de Filippis had the misfortune to be cited in a complaint lodged two years ago by the disgruntled head of an Internet service provider for libel. Xavier Niel, head of Free Internet, was unhappy about a commentary posted on Liberation's website in response to an article on his legal problems.
As directeur de la rédaction at the time, de Filippis was in theory legally responsible for the paper's entire contents, even if he did not write the contentious text — it was a comment by an online reader.
The French press — Libération in particular — is apoplectic about the "interpellation musclé" (literally the muscle-bound arrest) of one of its own.
"Democracy means that if the doorbell rings at 6am, it is likely to be the milkman," wrote Libération's editor Laurent Joffrin, paraphrasing Sir Winston Churchill. The police rang at 6.40am, but you get the point.
Condemnation has been swift from most quarters but the government response has been strangely muffled.
Over the weekend the culture minister, Christine Albanel, issued a weak statement that "full light" should be shed on the arrest. But today, interior minister Michèle Alliot-Marie, said the police had done nothing wrong — they were simply obeying orders. "The police officers followed procedures" and were acting on the orders of the investigating judge handling the case," she said.
The case has highlighted some disturbing issues.
Firstly, journalists need better protection in France — European champions for the number of reporters arrested doing their job. There has been a rash of cases in recent months of journalists being arrested and quizzed over their sources. Last December, Guillaume Dasquié, an intelligence expert, was placed under official investigation for providing Le Monde with a classified document on a failed plane terrorist plot prior to September 11. He was grilled for 27 hours non-stop first. In July, a reporter working for car magazine Auto Plus was placed under investigation after spending 48 hours in jail for publishing previously unseen photos of a new Renault car. Last year, satirical weekly successfully barred police from searching its files for a source.
President Nicolas Sarkozy has promised to add a clause to the French constitution guaranteeing journalist's sources, as required by European law. However, even if passed, a draft bill on the subject stipulates that a judge can ignore this if searching a newspaper is "indispensable in revealing the truth."
Sarko's detractors point out that press freedom has already taken a massive hit since his election last year, as practically all major press organs are owned by the President's friends. The most recent example of self-censorship was when conservative Le Figaro airbrushed out a huge diamond ring from the finger of justice minister Rachida Dati — in keeping with the President's recent request to tone down bling. Today Dati said that the arrest was "completely normal" given the journalist had ignored three previous summons.
There is also concern about a new law which will give Sarko the Berlusconian power to hire or fire the head of the country's state broadcaster and offer various perks to his private channel boss friends. Le Monde called the bill "democratic regression."
The second disturbing issue is the habit of French investigating magistrates, whose inquisitorial powers were defined by Napoleon, to arrest people and remand them in custody for long periods often for flimsy reasons. The numbers of such arrests have exploded from 336,000 in 2001 to 560,000 in 2007.
In a mild rebuke, Serge Portelli, a senior judge from the left-leaning magistrate's union, said that at least de Fillippis' arrest had woken the press up to a problem that countless low-profile detainees face every day.
"We are faced with an uncontrolled … use of the means of coercion that are at the disposal of the state," he said.
---