Jason Licht | Excerpt from the book
Liberatio
(2009)
1,650 views
January 24, 2009
Nationalism and patriotism are ugly words, are they not? To love one's country is equally as absurd as to love one's impotency. No country on the face of this Earth is worthy of being called free. Hence, those who call themselves nationalists and patriots are all worshipping fascisms and oppression.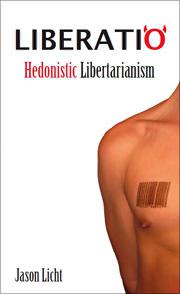 The height of patriotism is to die for one's country. But what exactly are these pathetic martyrs trying to prove? That the piece of land they live on is more important than their own lives? That their nation's leader is right, and everybody else is wrong? Even some of those who protest wars call themselves patriots. But why, I ask, do they love their country if they find it to be oppressive? What exactly is there to love if humans are treated like cattle?
A nation is simply an idea, a name, a symbol, and a history of submission called culture — all held together by a government which tries to make the abstract into something concrete. That's it, no more, no less. To die for something as absurd as that, one must truly be a madman.
There is nothing to be proud of for living in a certain country. Liberty is something that should be taken for granted, not something to thank politicians for. Freedom is a natural human right!
We are born into a certain country simply by chance. And for this reason only, we are supposed to love, worship, and even die for that country. Why should we love the rules and the rulers simply because of chance? What exactly is there to love about a country? Is not love for oneself, one's family and friends, more important?
Nationalism and patriotism both lead to tunnel vision, racism, and hate, while causing the entire nation to be seen as one. The acts of unity can be seen everywhere, from soccer teams whose rivals are other countries, to crowds of people cheering for their newly elected dictator. And nations fuel this patriotism by building statues and monuments to celebrate the conformity and submission of their people.
The elitist attitude that governments have is no different from children fighting over who's the rightful owner of a toy. Thus, every political leader has regressed to having the mentality of a six year old child. Or, maybe they never grew up at all.
It is very rewarding to know your true enemies. If you read and study Niccolò Machiavelli's book, The Prince, along with the biographies of Adolf Hitler, Benito Mussolini, and the like, it is easy to see how these madmen think and reason.
When you are done, try to find parallels to your own government. The quote below is taken from one of Hitler's closest men, Hermann Göring, during the Nuremberg trials. This asshole even admits how easy it is to manipulate people by simply creating a common enemy and a sense of patriotism. Ironically, his statement has served as one of the most useful insights into how governments really operate and function.
"Naturally the common people don't want war; neither in Russia, nor in England, nor in America, nor in Germany. That is understood. But after all, it is the leaders of the country who determine policy, and it is always a simple matter to drag the people along, whether it is a democracy, or a fascist dictatorship, or a parliament, or a communist dictatorship. Voice or no voice, the people can always be brought to the bidding of the leaders. That is easy. All you have to do is to tell them they are being attacked, and denounce the pacifists for lack of patriotism and exposing the country to danger. It works the same in any country." — Hermann Göring.
War will not exist if there is no state, no government, and no political rulers. And this fact alone should make anyone at least consider the abolition of their government.
When there is no state, there won't be any reason to invade other countries, since no one benefits from war except those in power. Besides, no one would be in the position to conscript people, declare war, or decide which country is good and which is hostile.
No tax money would be stolen from us and used to finance the murdering.
And those who cry about not having anyone to protect us from other countries are more than welcome to buy their own equipment and play guerrilla warfare in the woods.
That way, military defense becomes completely voluntary and unregulated by any government, which means that there won't be any more nuclear bombs or chemical warfare. The libertarian axiom of not initiating violence will then be upheld, and people can finally be freed from the enslavement of war.
Donate and Make a Difference
War Is Crime is an independent non-commercial website. It is not addressed to "the masses" but to the individuals, to you personally. Please consider sending a donation to help us keep it running. Your generous support makes the world a better place!
---