As the grotesque raping and disillusionment of America by "The Creation of the Second Great Depression" proceeds with an expert chess-player's grace, a bigger scale invasion of Pakistan by the oligarchs running the United States appears imminent in order to save the world from those other 'terrorists'.
And the oligarchs have copious help from insiders.
In the case of the United States, it's her own Congress.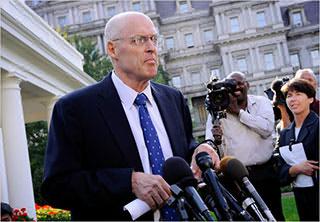 Treasury Secretary Henry M. Paulson Jr.
The
accurately predicted
initial defeat of the bailout package by a
mere loss of 12 votes
(
228 to 205
) is to be rectified shortly, as the
Wall Street
has fully implemented the President's
scare-mongering
dire warning with real teeth! The Congress folks will now be getting frantic calls and emails to reverse their previous vote! At least some of the 228 courageous souls had surely only voted NO in fear of a re-election loss due to their electorates voting with their own feet. That is, to the consternation of the oligarchs, the Representatives whom they largely fund and finance to get elected, had dared to listen to their own constituencies for a change on matters of national significance!
That fear has now been astutely mitigated with this calculated assault by Wall Street on the meager savings in 401K and pension plans of whatever remains of middle America! That is surely worth at least 12 new votes in this thin margin of lame-victory. This trap ought to make all of Congress bow their collective heads in abject shame. They have themselves enabled the raping of their own American peoples, with all their enthusiastic trillion-dollar budget approvals and cheerleading for the 'war on terror' upon those 'lesser' peoples far far away!
The oppressive domestic climate of 'United we Stand' and 'no debate' due to the pernicious police-state laws, unquestioned 'orange alerts', and atrocious Executive Orders which they cheered their President for while handing him carte blanche to wage "imperial mobilization", has now come home to roost. It enabled the enaction of "Martial Law" in Congress under which this bailout Bill, secretly formulated by "insiders" in the inner sanctums of power, was brought to immediate vote without debate. So what's the really new 'news' here?
It's the belated discovery that oligarchs are now pulling the strings from behind the scenes — because this string-pulling by the puppetmasters has finally become so egregiously visible and so audacious, that at least some can safely point to it (without being labeled "tin-hatted conspiracy theorists").
And the admission of the blatant fact that these oligarchs are such powerful globalists investing through a web of global institutional fronts such that they can trivially subvert any national boundary to conduct their financial transactions, and easily prevail upon even the mighty sole superpower's Congress to instrument their private bailout after ruining the national economy, remarkably, making it on CNBC as breaking news!
This slothful recognition is unsurprising, since Congress didn't seem to have done its due diligence to the testimony of Maj. General Smedley Butler more than seventy years ago regarding the mighty oligarchs' fascist plot to visibly take over America. Nor has anyone in Congress, apparently, read the highly decorated soldier's famous exposé, "War is a Racket"!
Then again, perhaps they have, and it isn't fashionable to publicly rehearse these facts, or to be specific about the names, as the same oligarchs are behind the very necessary financing of their election campaigns. The contest is between allegiances, between the idealism that shows up in speeches on the House Floor, and pragmatism when it comes to voting. These Faustian pacts is what ails the American Congress — dual allegiances.
Their first "NO" vote followed by this Wall Street ploy, has also afforded these Representatives the opportunity to safely say they are merely following the public's revised wish when they next vote "YES", and retain the blessing of the oligarchs. Only a handful need change their vote to swing the decision, and many veneers will be enacted as if it was a great compromise! The new talk is some tax-break for the public — but not to the tune of that received by the oligarchs!
The counter to this remarkable Wall Street move today is not possible, because as both Sigmund Freud and his nephew Edward Bernays had proved, the irrational and emotional response of the mind among the public can be trivially made to prevail over their rational self. There appears to be many a proficient successor to Edward Bernays and his 'Council on Public Relations', consulting for the oligarchs today!
The rational thing for Congress to do here would be to allow these banks to fail, to allow Wall Street to dip, to put a moratorium on all ordinary public's default on payments, to instead, award the ordinary American homeowner a bailout, to re-regulate the financial sector and its speculative instruments, to re-think the nation's debt-trap of money creation, and to create laws and federal statues by which plunderers, looters, and robber barons, instead of being lauded, are hung by the scruff of their neck and their wealth confiscated! The stocks will bounce back to their proper logical levels soon enough. But that rational act, of sanity and courage, requires another more primal, and far more truthful, enabling act to precede it.
In the case of Pakistan, it's her own 'Uncle Toms'. That is, all of Pakistan's leaders!
While many in the United States Congress may entertain genuine dual allegiances, Pakistani leaders, politicians, and military Generals, are rumored to have only one. This is amply demonstrated by the straightforward act of their paying homage to their own puppetmasters with an entire entourage of wannabes the moment they come to power. And this was repeated once again last week where they all took their real oath of office before the President of the United States to solemnly prosecute the 'war on terror'.
Are these 'can't get enough at home' paleolith white-skin worshipers merely mental midgets that they refuse to fathom the 'al qaeeda' fiction?
Or are they only the fully 'bought and paid for' black-ops assets of the harbingers of world-government?
Is there no un co-opted elite left in all of Pakistan and the world who can publicly assert: war on terror is a fiction?
Just that one simple affirmation by statesmen, congressmen, politicians, and serving military Generals, worldwide, at least in Pakistan, is all that is needed. All else will naturally follow.
Yes — the unholy transgression of uttering just this one blasphemous pronouncement by those who matter, by those who command constituencies, is the key Revolutionary Act to unlock all others!
Indeed — a bold and repeated utterance of the only fact of the matter that is also copiously written in America's own 'Mein Kampfs', will enable a genuine, lasting, and the least expensive bailout for all Americans!
Can Congressman Ron Paul lead the way with all his old talk of 'The Revolution'?
Can Congressman Dennis Kucinich show the way with all his talk of 'Impeachment'?
Can President Putin come right out and say it in plain English?
Can President Ahmadinijad utter those un-sanctimonious words in the UN instead of all the in-efficacious ones?
Can Presidents, former or not, Mandela and Chavez?
Can Priests, Christians or not, the Pope and the Ayatollah?
Can Fatima Bhutto, the Daughter of Revolutionaries, put some teeth behind her young grit?
Can Imran Khan, the Flag-Bearer of 'Insaf', put some plain justice in his fair speak?
It's truly now or never — with the American public finally listening and less 'United We Stand' — and before another shocking terrorist act, or catastrophic event, in America or elsewhere, is blamed upon Pakistan, upon someone else's fascism, upon Islamofascism, upon negligence, upon patsies, or just on 'oops'!
What is still practicably possible today, albeit with a bit of effort and a small price, will be well nigh impossible soon.
There will finally be, on planet earth, a real "no exit"!
---
© Project Humanbeingsfirst.
The author, an ordinary researcher and writer on contemporary geopolitics, a minor justice activist, grew up in Pakistan, studied EECS at MIT, engineered for a while in high-tech Silicon Valley (patents here), and retired early to pursue other responsible interests. His maiden 2003 book was rejected by six publishers and can be read on the web at http://PrisonersoftheCave.org. He may be reached at http://Humanbeingsfirst.org.