Roland Michel Tremblay |
The Marginal
1,598 views
November 4, 2008
You don't need to be gay to appreciate this website, you only need to be weird from the point of view of others. And if you are marginal, then you are more than welcome to send me your articles and your life story and I will be pleased to put it online.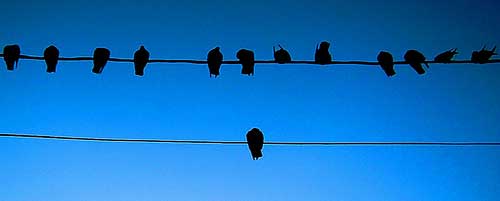 Did you use to listen to Morrissey and The Smiths in college? Have you ever wondered what life was about and always thought you never really fitted in? It is understandable, traditions and conservative people are long passed date, but we still live from their precepts and lost ideals that no longer make any sense. Perhaps because they forgot the meaning of everything, about why they do the things they do and why their traditions might have been wise in a certain time in history. Perhaps it was good then, but today it cannot be. Not if we want the freedom and the rights every human being deserves. I agree that only a small percentage of the population lives in the margin of society, but we cannot deny them the rights to be happy and to live the way they want. And by that I mean no mind games, no playing with our feelings, no guilt trip. It has to be complete, we accept you the way you are, we love you the way you are, and most importantly, we leave you alone in your corner if this is what you want.
God, this could be so simple if people could mind their own business, live and let live. That is something that never was, they always have this compulsion to mess up our lives, to give us the biggest guilt trip about every single decision we make, and obviously it is for them that they are worried. They are afraid that they will have to pay for this, that they are to blame for every action we do, that they might be hurt somehow. This is vanity. They want us to be happy? On the contrary, they want to be happy, they want every single element of their life to be predictable and acceptable to everyone. Tell me, what fun would life be with such perfection in someone's life? Who wants to be the perfect dad or mom, with the house, the children and the career? Wouldn't you feel guilty in this huge house? Wouldn't you feel there is something missing at the end if you are just the perfect idea of what is acceptable in society?
History has never remembered this kind of perfection, heroes are usually made of imperfect people, crazy enough to have questioned everything and rejected just about every single law that was governing their lives. Dreams are wild, they have no limits, no laws to stop them before they are born. This desire to live, to be free, to do something crazy, is not possible if you are conformist. And I am not saying that we need to be anarchists.
I am the Marginal, I am from nowhere, I have no purpose in life, I am lost. I never fitted in, I never was part of society, I never thought for a second that any of their laws were applicable to me. Oh, but I am morale, I am an ethical person, I am a good person, I would not hurt a fly, and when I am saying this, it is actually true, I let them go outside. And if I kill an escargot by mistake, I almost cry. Still, I could kill the person who would stop me from living, the person that will take my freedom of thinking and freedom to move around. There are too many laws in this world to be stopped by one or two. I have learnt to be flexible, to accept imperfection, to live dangerously on the edge. What do I do in life? Nothing, I can't keep a job. Oh yes, I have some books published, don't worry, they don't pay enough to pay me anything, so I am not a writer neither an artist. Not a respectable one anyway.
I almost died in a car accident recently and when I was finally able to get out of the car, what I thought was not: I'm alive, thank god I'm alive! It was: what, I am not fucking dead after all that? What does someone needs to do to die on this fucking planet? This is where sometimes being marginal drive someone mad. When you think that you have no one, nowhere to go, no family, no place in this world, rejected by everyone, this is not a Michael Jackson's song saying "You are not alone" that will rescue you. Most probably because you despise the kind of rescue you can expect from others. At the point that I am, I don't care about anyone, I know that no savior will come, that no savior should come. Perhaps I just want to meet people like me, perhaps that would be good enough. And then again, I am not sure. I would love to live alone at the top of one lost mountain somewhere. If I have to go live in the North Pole to find that peace, I will. That's where I am now, looking for ways out of this meaningless life. It is an existential crisis that might never find an answer and you are more than welcome to tell me of your solutions or your own neurotic reality. I am all open there on the road, lying dead after this car accident. Because this is what should have happened, I should be dead now. And I am not sure why. Perhaps you have the answer. If not, through time I might find it and you might find your own answers here through all these pages. It's a shame you cannot read French, I wrote 16 books to answer my existential crisis, I barely have anything in English. Well, you will have to read what I write here as the days go along, but at least I have now a translation of my book, The Anarchist.
So long marginals of the world united, do something to make this life bearable!
---