Students at the London School of Economics (LSE) have criticized their university's participation in an EU-funded joint research project involving an Israeli university which has developed remote-controlled bulldozers to illegally destroy Palestinian homes.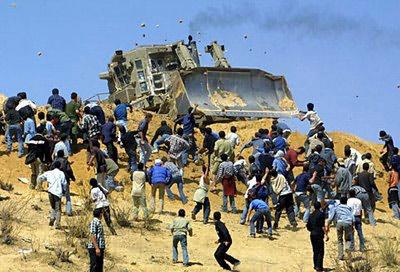 Dubbed PICK-ME (Policy Incentives for the Creation of Knowledge: Methods and Evidence), the project has a budget of €2.4 million ($3.1 million) and runs from 2011 to 2014. It connects universities and research institutes from Germany, France, Italy, the Netherlands and Poland with the Israeli Institute of Technology in Haifa, known as the Technion. More than two-thirds of the project's financing comes directly from the European Union's multi-annual scientific research program.
On 26 January, approximately 50 LSE students attended an emergency meeting to discuss the issue. The meeting was called by the LSE Student Union's Environment and Ethics officer after a number of students raised concerns. Supporters of the Palestinian call for boycott, divestment and sanctions (BDS) against Israel expressed dismay that their university should be collaborating with an institution like the Technion, which is deeply complicit in the oppression of Palestinians. Indeed, the Technion is an illustrative example of why the BDS call extends to all Israeli universities.
The Technion makes technology to detect tunnels, developed the remote-controlled "D9" bulldozer and works with arms companies including Elbit Systems, who created the notorious electronic surveillance system explicitly for Israel's wall in the West Bank, ruled illegal by the International Court of Justice in 2004.
LSE's cooperation with the Technion is by no means the first case in which the renowned London university has been involved in unethical practices.
Following a reputation-bruising scandal exposing the LSE's links to the Gaddafi regime in Libya — including a #1.5 million ($2.4 million) donation to the university from the Gaddafi International Charity and Development Foundation, run by Saif Gaddafi whose doctorate from LSE has since been investigated — the university is likely to be particularly sensitive to ethical questions.
The controversy forced Howard Davies to resign as LSE director and when the new director, Craig Calhoun, took charge recently, students expressed the hope that this would signal a change in the ethics of the institution. Prior to this, it had recently named a lecture theater after a former dictator of the United Arab Emirates, Sheikh Zayed al-Nahyan, following a sizeable donation. LSE students, worried that the school is losing its way on ethical issues, responded to these controversies by starting "The Only Way is Ethics" campaign which lists "divesting from South Africa during apartheid" as a previous ethical achievement of the university.
Long history of collaboration with Israeli military figures
Approximately 13,000 students study at the Technion, which has a long history of collaboration with the Israeli state.
The Technion's graduates include several prominent political and military figures including Uzi Landau, a member of the far-right Yisrael Beiteinu party led by Israeli Foreign Minister Avigdor Lieberman. Amos Horev, former chairman of the arms company Rafael Advanced Defense Systems, has also been president of the Technion. He was, as well, a member of the Turkel Commission, an Israeli body which cleared the Israeli government and military of wrongdoing during the May 2010 military raid on the Gaza Freedom Flotilla, in which nine passengers were killed.
Institutional racism
Palestinians with Israeli citizenship suffer from systematic discrimination and inequality in all areas including education. They also experience political persecution at Israeli universities which are without exception strongly ideologically supportive of Israeli state policies. In an excellent report on the Technion, the Canadian social justice organization Tadamon describes one key incident at the university: in 2010, a number of Palestinian students were arrested for peacefully protesting the assault on the Gaza Freedom Flotilla, even though they had applied for and been granted permission to demonstrate ("Structures of oppression," 26 October 2010).
The corollary of this institutional racism against Palestinian students is the preferential treatment of Jewish Israeli students who have served in the Israeli military. The army's Atuda academic reserve program has a special incarnation at the Technion called Brakim, described as "the latest in a series of joint [Israeli army]/Technion academic initiatives" and designed explicitly to produce the future "technological leaders in the [Israeli army]."
Inextricable links to Israel's arsenal
For students who voiced opposition to LSE's collaboration with the Technion last month, the extent of the university's involvement in the development of military technology was the most damning evidence. By developing weaponry — often in research and development projects funded directly by Israeli arms companies — the Technion bears great responsibility for grave human rights abuses. Among the innovations realized by the Technion are a remote-controlled bulldozer intended to assist the destruction of Palestinian homes.
The Technion collaborates with three Israeli arms companies — Elbit Systems, the Israeli-government owned Rafael Advanced Defense Systems and Israeli Aerospace Industries.
Rafael's weapons were reportedly used in indiscriminate attacks on civilians during Operation Cast Lead, Israel's offensive against Gaza in late 2008 and early 2009. The company is famous for its "advanced hybrid armor protection system" used in Israel's Merkava tanks; and the Technion developed an "MBA program tailored specifically for Rafael managers" in order to cement its relationship.
Elbit funds research by Technion students and employs a steady feed of engineering graduates from the university. Along with surveillance equipment, the company is also responsible for making parts for battle tanks, and various unmanned aircraft. Human Rights Watch has documented how Elbit's warplanes were widely used in Operation Cast Lead ("Precisely Wrong," June 2010 [PDF]).
Recognizing this, in September 2009 the Norwegian finance ministry announced that it was excluding Elbit from its portfolio of pension funds due to its contribution violations of international humanitarian law and was followed by Denmark's Danske Bank and also Sweden's biggest pension fund.
Like Elbit, Israel Aerospace Industries (IAI) provides equipment for the illegal wall and also supplied drones used to attack civilians in Gaza during Israel's 2008-09 attacks. It is therefore complicit with Israeli violations of international humanitarian law relating both to the wall and the deliberate targeting of civilians during the attack on Gaza.
Growing campaign
The initiative by Palestine solidarity activists at the LSE should be viewed as part of a growing campaign among British students. The National Union of Students (NUS) — traditionally reluctant to support Palestinian rights — recently endorsed boycotting Veolia and Eden Springs over those firms' complicity with the Israeli occupation. The NUS National Executive Committee also condemned LSE's neighbor, King's College London, for its collaborative research with Ahava, a cosmetics manufacturer based in the illegal West Bank settlement of Mitzpe Shalem.
However, Technion's involvement in a €4.4 million ($5.8 million) project being co-ordinated by another university in the capital — University College London — at present remains unchallenged. The Israeli university also maintains strong links with Canadian universities McGill and Concordia, works on biomedical engineering with a string of top North American universities and is set to partner with the prestigious Cornell in the US to build a joint campus called NYC-Tech on Roosevelt Island in New York City.
EU hypocrisy
The LSE's ties with the Technion normalize and contribute to entrenching Israel's oppression of the Palestinian people. By functioning as a corporate research and development lab for weapons, the Technion epitomizes the bonds between Israel's academics and its military-industrial complex.
Questions must also be asked of the European Union. Since the remote-controlled bulldozers developed at the Technion are used to knock down Palestinian homes and make way for illegal settlement construction, the advice by EU diplomats on ending assistance to companies which facilitate settlements is hardly consistent ("EU report calls for action over Israeli settlement growth," The Guardian, 18 January 2012).
Even if the EU-Israel Association Agreement which allows Israeli companies and institutions to participate in the European Research Area — and receive funds under the Seventh Framework Programme for Research — was not in itself problematic, the specific projects being funded, including four involving Elbit Systems and fourteen in which IAI is a participant, make a mockery of the clauses claiming to uphold the protection of human rights.
The LSE must ask itself if it wishes to make a clean break from its recent muddy history or continue in the same vein. Palestine solidarity activists at LSE undertaking a boycott campaign are unlikely to have a quick or easy victory given the degree to which such unseemly collaborations have become accepted as "normal" in universities across the continent. They will be taking on the weight of years of Israeli diplomacy within EU policy circles and opposing Israel's closely-guarded military research funding at a key source.
But while Palestinians continue to suffer the real-life consequences of these partnerships, as test subjects in an open-air weapons laboratory, the ethical case is clear-cut and a vigorous campaign at the newly image conscious LSE could be precedent-setting.
---
war is crime's addendum:
This is what David Icke says about the London School of Economics in his latest bestselling book, Human Race, Get Off Your Knees" (pages 66-67):
Four Fabians, Beatrice and Sidney Webb, Graham Wallas and George Bernard Shaw, founded the Illuminati university college known as the London School of Economics and Political Science (LSE). Among those who have studied at the LSE are major Illuminati names like David Rockefeller and the billionaire financier George Soros…
Another is Richard Perle, one of the leading members of the infamous neoconservative cabal that controlled the Boy Bush administration and instigated the 'war on terror'.
President Kennedy also studied there, albeit briefly, and people you would never expect turn up as students at the LSE. These include Saif al-Islam Gaddafi, the second son of Libyan dictator Colonel Muammar Gaddafi and his widely predicted successor…
If you go to Appendix I, you will see the extraordinary number of famous and influential world leaders, politicians, government advisors and adminstrators, economists, journalists and so on who have been educated at the Fabian Society's London School of Economics or have been connected to the organisation. It is, like Oxford and Cambridge universities, a place where Illuminati assets can be recruited and developed, many of them with no clue how and why they are subsequently used.
---