By
Neil Hague
| ISBN: 0-9541904-5-9
2,290 views
Quester Publications, 2009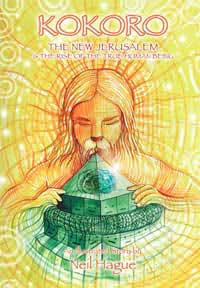 The world we think we know so well is merely one of many mental stage shows, films, images and realities – every one are projections of an infinite consciousness.
Kokoro is the epic story of divine human consciousness and the world that exists beyond the illusion of flesh and bone, time and space. It is a narrative that tells of the plight of humanity, from the construction of time to our present 'mind machine' based reality.
In two parts and through his highly individual style of visionary artwork, Neil Hague tells the story of the lion Kokoro (which means Heart) and his emergence in a world fashioned by the creator God Naga (the Serpent) and the Puppet Master – Marduk.
Inspired by numerous artists, legends and philosophies, from Blake's Jerusalem to the Book of Revelation, The story of Kokoro shows how a prison world controlled by fear is transformed through freedom and love. It is the legend of Alpha and Omega and through a kaleidoscope of worlds, symbolism and colour it is designed to inspire all ages.
"Few artists, if any, have attempted to illustrate the creation and evolution of consciousness! In this highly insightful project, Neil Hague's Kokoro eloquently expresses the positive potential of humankind – a visionary inspiration for the mind and soul, reaching the parts that words alone cannot reach." – Karen Sawyer, author of Soul Companions (2006) and The Dangerous Man (November 2009).
UK price: £10.99 (plus £1.75 p&p).
---