Today we made our first collection and distribution of a large amount of food to the homeless across central London. The reaction from those poor souls who have no home but who now have quite a few fresh meals to keep them going was excellent.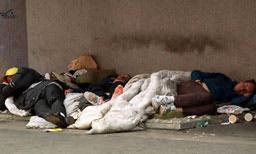 The politeness,lack of humility and coyness in being offered help clearly shows the respect homeless people have to being offered a little assistance to get them through the cold winter nights in one of the richest cities across the globe.
It is shameful that the political windbags fail time and again to come to their assistance and despite the credit crunch the massive number of London billionaires and millionaires makes that level of poverty even more despicable.
Anyone who lives near Central London and can spare a couple of hours to collect and distribute food on behalf our group to the homeless please get in touch at
email: open.society@yahoo.co.uk
Donate and Make a Difference
War Is Crime is an independent non-commercial website. It is not addressed to "the masses" but to the individuals, to you personally. Please consider sending a donation to help us keep it running. Your generous support makes the world a better place!
---