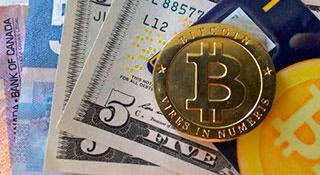 When I begin telling somebody I am a bitcoiner, sometimes their eyes glaze over in the same way eyes would glaze over when I began a sales pitch. But they're mistaken. I am not selling bitcoin, I am promoting an alternative way of living, doing business. At one point I too was in their shoes.
Maybe it is in my blood to yearn for change, maybe the grass is always greener on the other side. If one thing is for sure, I don't see bitcoin as a viable medium of exchange and beyond simply because I have personally invested time into understanding it. It's usefulness was made clear to me, by another digital native, and I soon understood that many of the world's problems could be solved with a technology like bitcoin. It doesn't matter that bitcoin's price might go to unexpected heights. That award for those who sought change is merely an afterthought when placed in the perspective that distributed currencies make central banking obsolete.
Upon learning that I am leaving the Federal Reserve System, friends and family immediately inquire if perhaps I am being naive and angsty. They're worried that I am falling for a financial scam…and that I am trying to get them involved. From my perspective, I lament that the answer for my departure is anything but obvious.
It is no fun watching our loved ones live in ignorance of the new way of doing things. So here are my real, unfiltered, honest reasons for leaving the financial system. You'll notice many of them are moral.
Discussions revolving around the new technology bitcoin oftentimes focus on the economic and financial technicals. Whether or not the system itself is viable in terms of functionality or not and also whether or not it is just plain useful. Rarely, a fact that highlights our personal pre-disposition away from morals and ethics, does discussion about the "should" of bitcoin pepper the philosophizing about bitcoin. In the following examples I try to promote this line of reasoning.
The same interests who supported Nazi Germany & the Soviet Union.

Government controlled fiat money funds an immoral system.

Stealing is moral…sometimes

The Debt

Bitcoin helps the poor.

Bitcoin saves individuals on money transfer (MT) fees, helping the poor, while creating competition for big finance
---
Justin O'Connell is the Head Researcher at Dollar Vigilante and Chief Executive Officer of GoldSilverBitcoin. He is also the author of the first full-length bitcoin book, Bitcoinomics, and administrator of the Bitcoinomics website. Justin is also a co-host at Our Very Own Special Show, a lifestyle podcast about music, news, life and other topics. He lives in San Diego, California. His writings mostly deal with gold, silver, bitcoin, technology and culture.