Alfred Lambremont Webre |
Examiner
9,843 views
December 10, 2009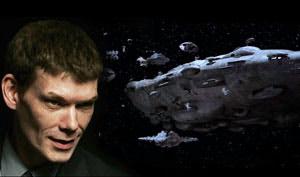 With the sudden announcement on Friday Dec. 4, 2009 of the closing after 50 years by the U.K. Ministry of Defence of its UFO Affairs desk on the implausible grounds that its annual $73,000 budget is now being devoted to President Barack Obama's surge in the Afghan war, speculation of imminent disclosure of the extraterrestrial presence by the Obama administration has faltered. 
The U.K. decision, taken in apparent reaction to secret disclosure maneuvering, authoritative citizen-driven ET disclosures and an impeding citizen ET ballot initiative in Denver, Colorado, has had the function of making transparent the underlying reactionary nature of "official" disclosure strategies that are camouflaged components of expansionist military strategies. 
There is evidence that the U.K. and the U.S. governments are co-participants not only in a global expansionist military policy as in Afghanistan, but also in interplanetary military expansionist policies involving secret solar system and galactic anti-gravity fleets. Evidence of these fleets was uncovered by UFO researcher Gary McKinnon, whom the U.S. government is prosecuting and whose extradition the U.K. government is facilitating in contravention of international humanitarian law.
Disclosure of an extraterrestrial presence, and of secret human-ET liaison programs will most plausibly, as they have been in the past, be done by citizen groups or whistleblowers. With the approval of a Denver Ballot Initiative, disclosure may now also be a matter for the voting public to decide. The extraterrestrials themselves, of course may continue their driving role in ET disclosure, at least for the immediate future.
Obama does not intend ET disclosure now
In hindsight of the U.K. decision, there are multiple reasons why the Obama administration would not now disclose ongoing secret human-ET liaison programs of the U.S. government, some of which have been ongoing since at least the early 1970s. 
For one, the U.S. government is actively prosecuting UFO researcher Gary McKinnon in order to maintain the secrecy of a black-budget funded anti-gravity space ship fleet.
Secondly, ET disclosure by the Obama administration would risk disclosure of top-secret forward U.S. military bases on Mars, serviced by teleportation corridors. The reality of these has now been revealed by independent whistleblowers. The Obama administration's function is to rationalize a covert U.S. government strategy to colonize the solar system militarily.
Thirdly, a leading agency of the Obama administration — NASA — is actively seeking to suppress knowledge of the extraterrestrial presence on Mars and other celestial bodies.
Fourth, unlike President Jimmy Carter, Obama never promised to disclosure during his campaign and has undertaken no good faith effort to disclose the ET presence. Efforts by this reporter to reach the office of Secretary of State Hillary Clinton for confirmation of some good faith disclosure agenda have been rebuffed.
Finally, independent sources now confirm that Barack Obama is a life-long U.S. intelligence asset, who began his training in the early 1980s at Columbia University as part of an elite unit training him as a future U.S. president, under Zbigniew Brzezinski, founder of the Trilaterist Group under David Rockefeller. 
Trilateralist-controlled groups and defense and resource industries have benefited from the decades of the privatization of extraterrestrial liaison programs. There is no reason to believe that a Rockefeller-dominated complex would engage in public interest disclosure not connected with military dominance and a permanent war economy.
(Read the full article here.)
---