Troops in a military base in France have opposed their deployment to Afghanistan amid dwindling support of French forces being there.
According to French media, troops in the 27th battalion stationed in a southern France military base said on Friday that they were unwilling to go to Afghanistan as part of France's mission in the central Asian country.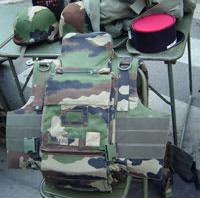 The troops' refusal to go to the war-ravaged country comes as 10 French soldiers were killed and another 21 were wounded on August 18.
The Taliban and Hezb-i-Islami group separately claimed responsibility for the attack on the French troops. However the French daily Le Monde quoted soldiers who survived the attack as saying that NATO planes missed the target and opened fire on their position. The soldiers also said that once they were engaged in the ambush they had to wait for four hours before any back-up arrived.
The attack shocked France and sparked fierce debate about the country's presence in Afghanistan.
Although French President Nicolas Sarkozy insists that France is fighting a battle 'against terror' in Afghanistan, a poll published in August showed 55 percent of the French feel they have just been sucked into America's war. Sarkozy has also faced severe criticism for being too close to US President George W. Bush's warmongering administration.
---