For the first time, Martin Luther King's entire FBI file is now online — all 16,659 pages, posted by The Memory Hole. Click here to go to the internet archive page containing the file.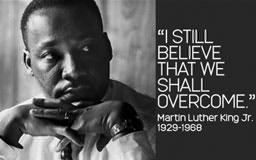 The FBI's Freedom of Information Act office elected not to post the entire file to its website; instead, they've posted only the first 201 pages here.
For a long time, if you wanted to view the whole thing, you had to pay the FBI FOIA office over $1,600 (10 cents/page) to get a paper copy, which isn't a very convenient format for a huge file, or you had to go to a library that had it on microform, or you could view it in the reading room at FBI HQ in Washington, DC. Now you can get it online in PDF format. The FBI has divided MLK's file into 121 sections, and they've made an Acrobat file for each section. But as mentioned above, they've posted only the first two sections to their site. The Memory Hole has put all 121 PDF files into a dozen zip files and posted them here.
A very helpful guide to the FBI's MLK file is here. "Part 1" covers the entire main file on King. ("Part 2" is a guide to the FBI's file on King's adviser, friend, and confidante, New York businessman Stanley Levison; this 11,408-page file is comprised mostly of transcripts of bugged phone conversations between Levison and King. The FBI has posted the complete Levison file here.)
A couple of important notes about King's file in general. The 16,659 pages don't encompass all of King's FBI file — however, this is all that the Bureau has released. As is often the case, they've withheld some pages under exemptions allowed by the Freedom of Information Act. Also, a 1977 court order forced the FBI to remove portions of the file and send them to the National Archives, where they are sealed until 2027. You can read all about this in "Part 1" of the guide mentioned above.
Note that this is the main MLK file (i.e., the one compiled at FBI Headquarters). It contains some documents from FBI field offices, but the separate field office files on King aren't included in their entireties in his main file. The Memory Hole will post these in the future.
---