Paul Bondarovski |
War Is Crime.com
2,794 views
April 1, 2015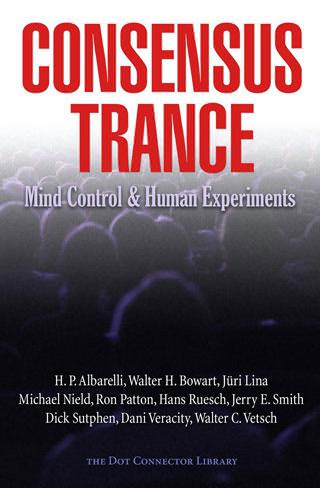 Most of us live in consensus trance, and under "most" I mean almost all of us. Consensus trance is a state of consciousness produced by ideological blunting of our intellect through intensive manipulation (brainwashing), which forces us to accept false conception of reality. And the worst is that we very rarely know if the thoughts in our head are ours or have been skillfully suggested by someone or something else (e.g., subliminals, which can be audio, hidden behind music, or visual, airbrushed into a picture, flashed on a screen so fast that you don't consciously see them, or cleverly incorporated into a picture or design). In the entire history of man, no one has ever been brainwashed and realized, or believed, that he had been brainwashed.
This book is composed of the articles written by different authors at different times, but together they present the Big Picture of mass and individual mind control and its various techniques.
Mind control is not only used by the state and the global elite to manipulate us into doing things that we otherwise, if we thought for ourselves, wouldn't ever do (for example, going to war and killing each other all while believing that such a criminal way we are "serving our country"). Unfortunately, if you check books, magazines and websites talking about awakening and spiritual development, many of them are using exactly the same mind control techniques that those evil forces they are supposedly opposing. The fact that they are doing so "for a good purpose" doesn't change anything, because mind control in itself is evil. You cannot control, or even attempt to control the mind of another person and stay a "good" person yourself.
Mind control, in any form and for any purpose, is a crime against human nature and against life itself. It is transforming human beings into remote-controlled robots. It is replacing other people's will with the controller's will; it is making them to become extensions of controller's life and thus depriving them of their natural right to live their own lives. It is theft, because you're taking what is not yours and doing it without another person's knowledge. And it is killing, because it is taking away (literally!) someone else's life.
Five years ago, in 2010, I have published a book with a rather long title, Climategate, The Marijuana Conspiracy, Project Blue Beam, and other true stories from The Dot Connector magazine (available from Amazon.com). The magazine that I published then doesn't exist any more, but I have decided to revive its idea in a form of The Dot Connector Library series. So, that Climategate book can be considered Book 1 of the series, and this is Book 2. Most of the articles have been published in different issues of The Dot Connector magazine, some come from other sources, but compiled this way they form a big and unique picture of the subject. For this book, the subject is mind control.
The authors of the book include H. P. Albarelli Jr., Walter H. Bowart, Jüri Lina, Michael Nield, Ron Patton, Hans Ruesch, Dick Sutphen, Jerry E. Smith, Dani Veracity, and Walter C. Vetsch.