WARNING: extreme spraying across Great Lakes and Gulf states today … Are they making a path for hurricane Ike by next weekend?
The Northeastern USA around New York City will remain spray free today. Am getting news two main targets today. One will be the Great Lakes and Ohio River Valley region. A massive spray arsonal is expected in the area. Texas across the Gulf States will be sprayed up into the Carolinas. A major attack is scheduled. The Pacific Northwestern States should have a return of spraying, with the Southwestern USA remaining free.
Map below is for the afternoon of September 8, 2008.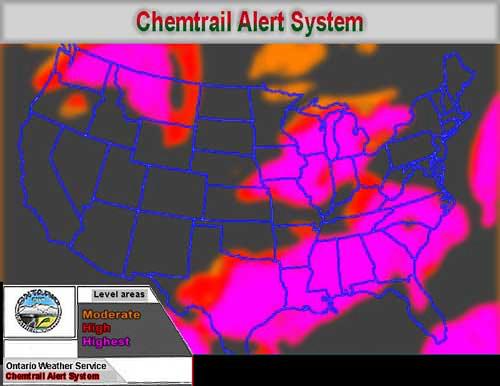 International Program is in development and will be a reality within the next couple of weeks. First map testing of Europe is September 9, 2008.
Our forecasts category 5+ hurricane. A hyper-cane in the Gulf of Mexico. Click here.
We are opening a store that will sell Chemtrail shirts / cups etc. This website will be on all of them. The items will be unique because OWSweather.com is the only source in the world that can tell you when chemtrails will be put out. Spread the word. I am willing to put my reputation on the line to spread the word of chemtrails.
The reports are gathered through second party air force information, and also the knowledge I've gathered being a meteorologist in patterns they spray in and around. I, Kevin Martin, am probably the ONLY meteorologist that believes the trails exist.
Please email pictures to wxchatter247@aim.com — We will be developing a section for pictures of chemtrail activities across the world. Your photos can be on it. Please give a first name and location of the chemtrails. That is all.
WarIsCrime NOTE: Better late then never. (And it answers some questions in the comments.) In his latest book, The David Icke Guide to the Global Conspiracy, David Icke wrote the following (p. 517): "I suggest that the chemtrail agenda is connected to HAARP, the High Frequency Active Auroral Research Program, based in Alaska and run by the US Department of 'Defense' through the Air Force and Navy … The target is the electrically-charged ionosphere surrounding the planet at between fourty and sixty miles above the surface. We won't know the full significance of what the chemtrail clouds contain until we know how they interact with the signals broadcast by HAARP. Behind the cover stories and the bullshit, HAARP is all about control on multi-levels, including weather control."
To get the most complete Big Picture of what chemtrails are all about (why, how, what exactly is sprayed) CLICK HERE.